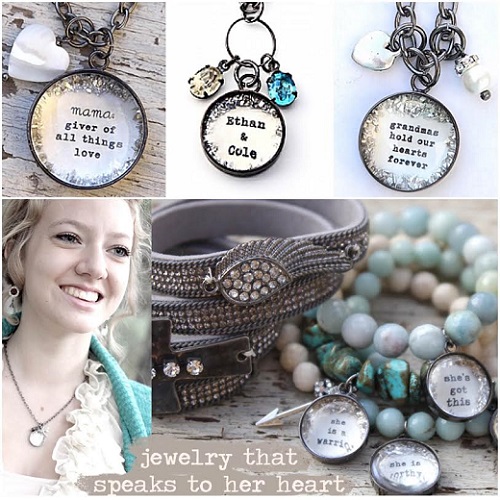 Want to get the ladies in your life something more thoughtful and meaningful this year? Look no further – Beth Quinn Designs has something for all the women you know that will make them feel extra special!
Designer Beth Quinn believes in honoring women with little affirmations to bring them joy and inspiration, and celebs like Jenny McCarthy are fans! Her line has the perfect gifts for moms, sisters, grandmas, and girl friends! Choose from an array of bracelets, necklaces, earrings, and more with meaningful messages, like a beautiful necklace for mom, or a special necklace for grandma!
Beth Quinn Designs not only has jewelry, but lifestyle decor pieces for home with inspirational messages, too!
– Lead / Nickel free
– Made with the safest metal for sensitive skin, least likely to cause an allergy
– Use Sterling Silver Ear wires for earrings
– Charms come in 3 sizes: 25mm (about 1″); 18mm (about 3/4″) and 15mm (1/2″ )
– Are customizable!
For this holiday gift guide feature I received a complimentary Mercury Glass Heart Ornament with inspirational saying. I love mercury glass Christmas ornaments and actually own quite a few of them. I was super excited when this one arrived, because I knew it would make a fantastic addition to my collection.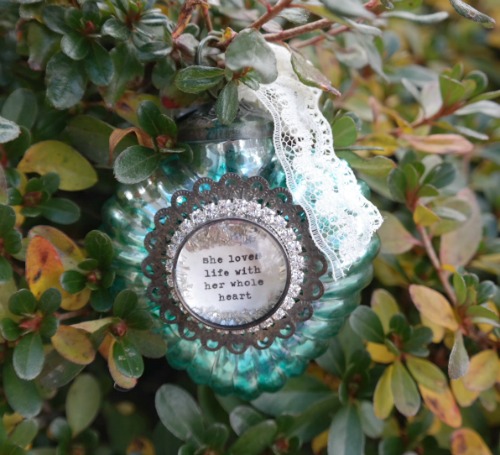 These ornaments come in different colors, I selected the Aqua color since I decorate my tree in a coastal & beach theme in colors of aqua, blue and silver. Once you've chosen your color, you can then select the message. The one that I received says "She loves life with her whole heart" and that is certainly true for me! If you want to add custom wording, they only charge a $3.00 fee for that.
I really love the size of this ornament, it measures approximately 3″ in size, so it doesn't get lost among the branches. Each ornament is adorned with a hand-glittered, rhinestone centerpiece which really adds some nice pizzazz to the piece. Just enough bling, not too much! Yup, that's the way I like it!
I think it's perfect, absolutely PERFECT and I love it…seriously, I do! Matter of fact, I would absolutely LOVE to have a few more of them too! Head on over to Beth Quinn Designs and check out all of the adorable products that they have to offer. You'll also find these beautiful designs available in stores nationwide.

Disclaimer: Shelly H. received a complimentary product to feature & review on this blog. No monetary compensation was received. Shelly's thoughts, opinions and words about the product are 100% her own, unbiased opinion. Please read our Terms of Service & Disclaimer Policy before entering our giveaways. Thanks!