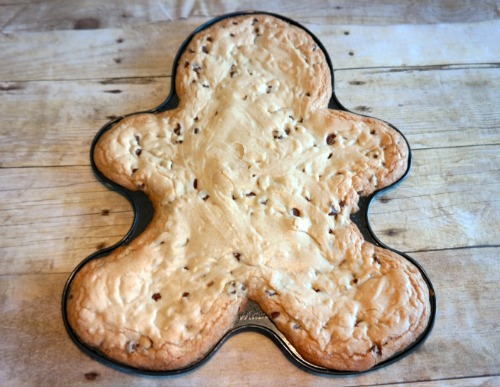 Pressed for time when it comes to baking holiday cookies? If so, I've got a great time-saving tip for you today. When I'm short on time, but still want to make a batch of chocolate chip cookies, I'll use one of my daughter's large baking pans. By only having to put one pan into the oven and letting it bake (as compared to numerous baking sheets in & out of the oven), you'll have your batch of chocolate chip cookies made in no-time at all.
For this particular batch, I used Shelly's Wilton Gingerbread Man baking pan. It's non-stick and holds an entire batch of cookie mix. Once they've cooled, I cut them into bars. In addition, I used the Nestle Toll House Chocolate Chip Cookie Recipe which is below.

Giant Chocolate Chip Cookie Recipe
You'll want to mix up your entire batter and then pour it into one large baking sheet or baking pan.
Ingredients
2¼ cups all-purpose flour
1 tsp. baking soda
1 tsp. salt
1 cup butter, softened
¾ cup granulated sugar
¾ cup brown sugar
1 tsp. vanilla extract
2 large eggs
1⅔ cups Nestle Toll House Morsels
Instructions
Preheat oven to 350 degrees F.
Combine flour, baking soda and salt in a small bowl. Beat butter, granulated sugar, brown sugar and vanilla extract in a large bowl until creamy. Add eggs, one at a time, beating well after each addition. Gradually beat in the flour mixture. Stir in by hand the Nestle Toll House morsels until combined.
We used a non-stick baking sheet, so we did not grease the sheet. Pour all of the cookie batter into the pan, use a spoon to make sure the layer is even. Place baking sheet into a preheated oven and bake. It took about 17 minutes for our's to fully bake. Remove and let cool. Once cool, cut into bars and store in an airtight container.