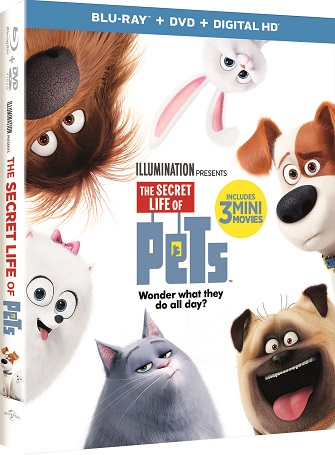 This holiday season, the answer to the question "Ever wonder what your pets do when you're not home?" is answered when The Secret Life of Pets comes to Digital HD November 22nd, 2016 and 4K Ultra HD™, Blu-ray™ 3D, Blu-ray™, DVD and On Demand December 6th, 2016 from Universal Pictures Home Entertainment. The humans behind the Despicable Me franchise present America's top-grossing original film of the year, the animated comedy is a worldwide hit with over $834 million in global ticket sales. The Secret Life of Pets is "non-stop action and laughs," says Peter Travers of Rolling Stone. The 4K Ultra HD™, Blu-ray™, DVD and Digital HD versions feature nearly an hour of bonus content, including three hilarious mini-movies: the all-new Norman Television and Weenie PLUS Mower Minions which debuted in theaters and is now available to own.
In their fifth fully animated feature-film collaboration, Illumination Entertainment and Universal Pictures present The Secret Life of Pets, a comedy about the lives our pets lead when we leave for work or school. Max, voiced by Louis C.K., is a loyal terrier living a perfectly happy existence until his owner, Katie (Ellie Kemper) brings home Duke (Eric Stonestreet) a big, boisterous mutt she finds at the shelter. When Max and his unruly new "roommate" slip away from their dog-walker, they find themselves lost in the urban jungle of New York City. In an attempt to stay ahead of animal control and a rebel band of abandoned pets led by an unhinged bunny named Snowball (Kevin Hart), they put aside their differences to survive the epic journey back home.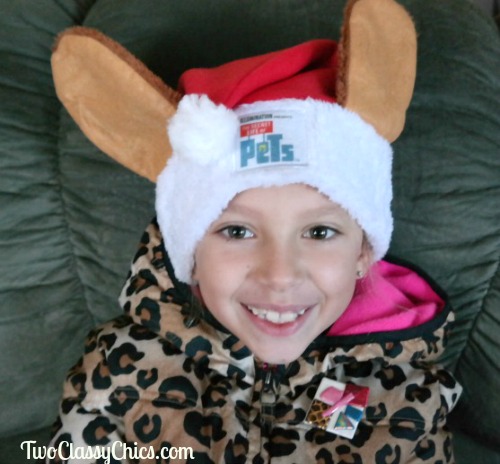 Our Thoughts: When this movie hit the theater we took our granddaughter out to see it. It was the #1 movie that she wanted to see at that time. She loved the movie so much that's she been actually counting down the days until it would be released on DVD. Since we received a complimentary DVD last week, we had her over for a movie date and she was super excited that her new DVD was finally here.
As a grandmother, I love animated movies like this that the entire family can enjoy. While there are thousands of animated movies out there, NOT all of them appeal to older kids or to adults. However, this is truly one of those animated movies that the entire family will enjoy…every one from the wee-one's to the senior-aged adults will love it.
The movie has some of the cutest animated characters that I've seen in a long time! If you're a pet owner, I'm sure you've always wondered what your pet does when you're not at home??? Well, this movie takes a hilarious look at that! The story line is entertaining and from start to finish you'll be laughing and glued to the screen to see what happens next!
On our entertainment rating scale, we give this movie 9 popcorn buckets out of 10 popcorn buckets. It's one that you'll definitely want to add to your collection if you enjoy animated flicks or if you have kids in your family.
* This post contains affiliate links. If you make a purchase, we may or may not receive a small commission which helps to support this site. Thank you!

Disclaimer: Shelly received a complimentary product as featured in this blog post. No monetary compensation was received. Shelly's thoughts and words are 100% her own unbiased opinion on the company & products being featured today. The Two Classy Chics are not responsible for prize shipment or fulfillment. This post may contain affiliate links. If you purchase an item through an affiliate link, we may receive a small commission which helps to support this site.