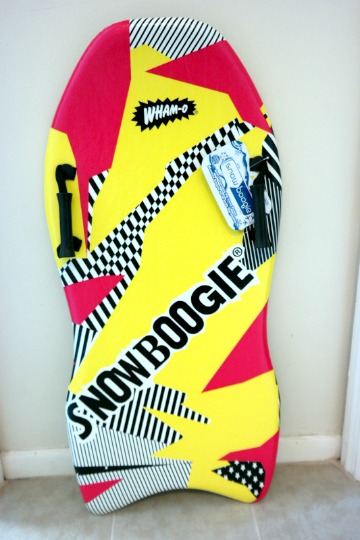 My brother and I enjoyed our childhood in the countryside and during the winter season, we often spent our time outdoors sledding, ice skating, building snow forts and having snow ball fights. Ahhhh, such fun memories as a child!
These days, children are spending way too much time indoors and not outdoors! As parents and grandparents, we need to get our children outside and we need to provide them with things to do. That includes backyard games, bicycles, roller & ice skates, snow sleds, etc. Let's face it, they're not going to get off that sofa, unless we force them to do it & give them something fun to do while being outside! Come on parents, we can do it!
Let me introduce you to the super-fun Snowboogie® Air Thunder, a single rider foam sled with a super slick bottom and convenient handle. This fabulous sled is by Wham-o, the same company responsible for Hula Hoop, Morey Boogie Boards, Slip N' Slide, and Frisbee (the list goes on).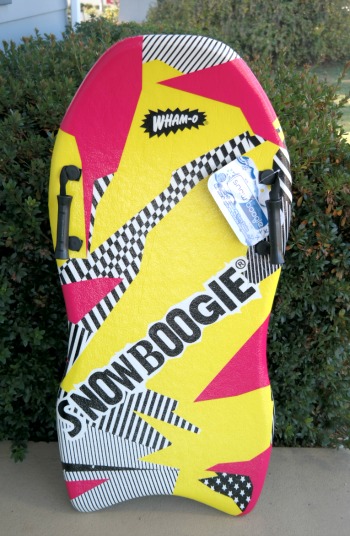 One of the things I love about this snow led is that there aren't any metal parts on it, which lessens the incidents of injuries. Remember those old wood & metal sleds of yesteryear? While they were fun, they weren't very safe. In the modern world, we have much safer alternatives like the Snowboogie Air Thunder!
Next, I love that it's light-weight! You or the kids won't get tired of lugging around a heavy sled! Nope, this one is super-light and even a child can carry it around. It has a foam core and measures 40″ in length. One large adult, or 2 small kids or 1 adult and a small child can easily fit on this snow board. The colorful graphics on it just ooze family fun!
My granddaughter is in-love with her new snow sled and now we're just waiting for some decent snow to arrive, so that she can try it out. (shhh, hubby is secretly hoping for some snow too, as he's anxious to hop on it too). It's super cool and I bet ya that if you live in an area of the country that gets snow, the kids would absolutely LOVE having this new snowboard/sled this holiday season!
Once we get some decent snow, I'll come back to this post and update it with some snow photos and let you know how we made out. FUN, FUN, FUN!
* This post contains affiliate links. If you make a purchase, we may or may not receive a small commission which helps to support this site. Thank you!

Disclaimer: Shelly H. received a complimentary product to feature & review on this blog. No monetary compensation was received. Shelly's thoughts, opinions and words about the product are 100% her own, unbiased opinion. Please read our Terms of Service & Disclaimer Policy before entering our giveaways. Thanks!