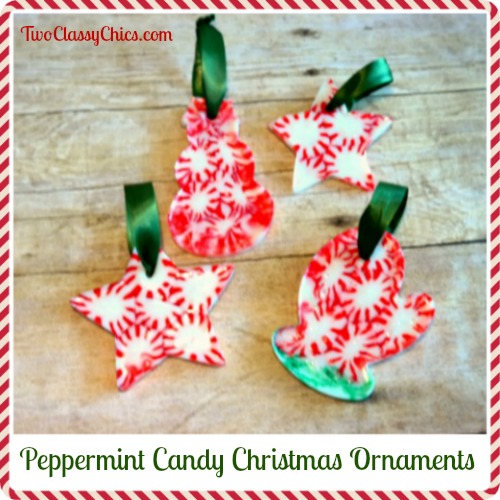 Christmas is just around the corner and the Princess & I have been pretty busy! We've been getting together every week and whipping up some new Christmas and holiday crafts. When it comes to holiday crafts, we love to make homemade ornaments! Some of them we add to our Christmas trees and others we use as package toppers on the gifts that we give.
Today we are featuring a really cool craft project with you. This one is NOT for the littlest one's in the family to make, so you'll want to make them with the older kids. Let's get started.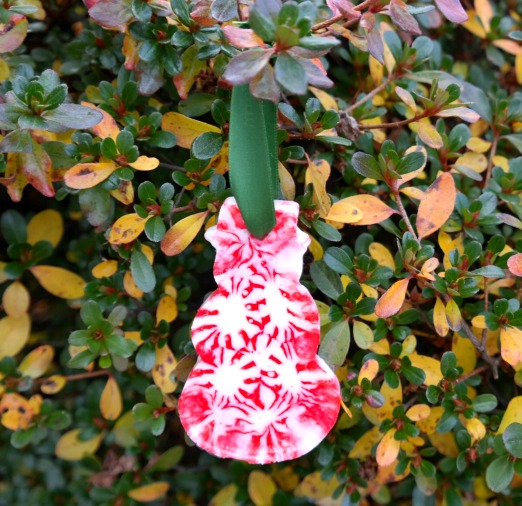 Craft Project: Peppermint Candy Christmas Ornaments
1 bag of red peppermint hard candies
1 bag of green peppermint hard candies
metal cookie cutters
aluminum foil
satin ribbon
scissors
non-stick baking spray
metal skewer
Preheat the oven at 325 degrees F.
Cover your baking sheet or cookie sheet with aluminum foil. Spray a little bit of non-stick baking spray onto your fingertips and rub your fingers over the inside areas of your metal cookie cutters. You don't need to oil them up, just a tad which helps the ornament to release from it after the baking & cooling process.
Lay the metal cookie cutters down onto your baking sheet, leaving 3″ of space between them. Unwrap the peppermint candies and lay them inside the cookie cutter in a single layer. They will melt, so so having small gaps between the candies is perfectly fine.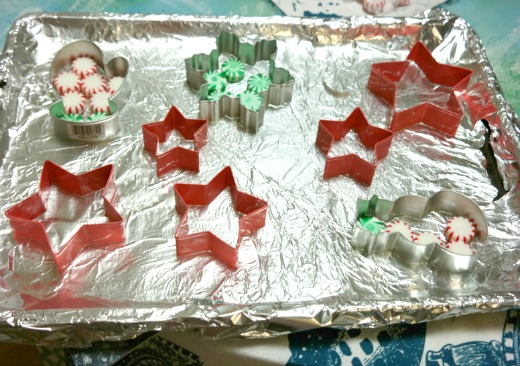 Place baking sheet into the oven. I turn my oven light on and I check on them every minute. Once you've seen that the candies have melted and have formed a smooth flat layer inside the cookie cutter, they're done. Remove from oven.
Wait 3-4 minutes to allow them to start hardening up and then take a metal skewer to make a hole at the top of each ornament. Our holes are about the diameter of a drinking straw. Let the ornaments finish cooling and hardening on the baking sheet.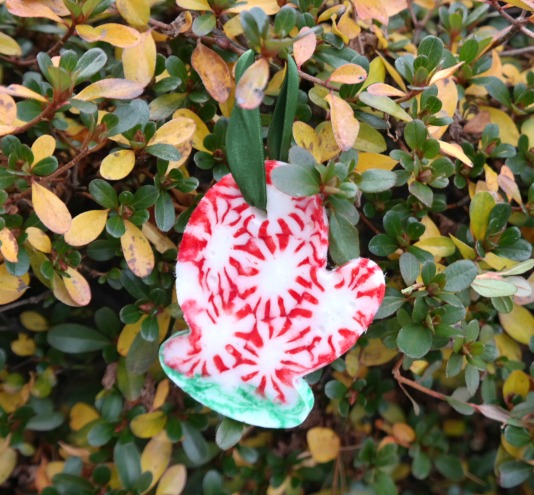 Once they are cool, remove the peppermint ornaments from the metal cookie cutters. If any of the melted candy over-spilled outside of the ornament, you can simply break it off and smooth out your edges. We had to do that to a few of them and simply tapped those areas off with the back-end of a butter knife. If the ornaments are a little oily from using non-stick baking spray, blot that oil off with some paper towels. Let them completely dry for a few hours.
Using satin ribbon and scissors, cut 5-6″ lengths of satin ribbon and thread it through the holes, tie into a loop and knot the ends. You're ornaments are now done and ready to hang on the tree!
* This post contains affiliate links. If you make a purchase, we may or may not receive a small commission which helps to support this site. Thank you!