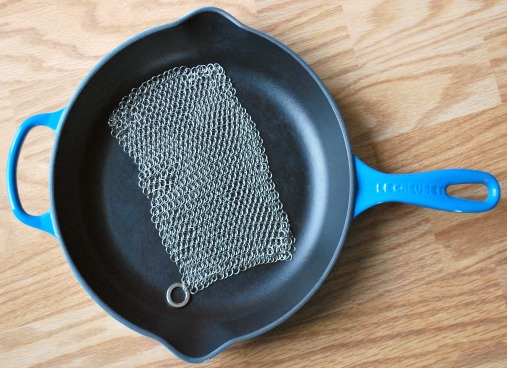 Cooks everywhere love cast iron cookware for its heat retention properties and its beauty, and a good piece can last for generations. Cleaning and caring for it can be challenging, though, since cast iron needs to be seasoned and protected from rust. Enter the Ringer cast iron cleaner.
The Ringer is an 8"x6" sheet of stainless steel chainmail rings, made in Canada. It's designed specifically to clean cooked-on food from cast iron with just warm water—no soap is needed, which means you don't have to worry about detergents harming the precious seasoning on your cast iron pots and pans. Because the Ringer's individual stainless steel rings are machine soldered, the edges are smooth, so the Ringer is safe for use on materials other than cast iron, too, including glassware, stainless steel, pizza stones, waffle makers, dishes, casseroles, etc.
It's definitely more sanitary than a kitchen sponge, which can harbor all sorts of nasty microbes and bacteria. When it's time to clean the Ringer, it can go right into the dishwasher–easy peasy. Because the Ringer is made from premium grade stainless steel, it will never rust. It comes with a built-in hanging ring so it can hang dry and be stored conveniently out of the way.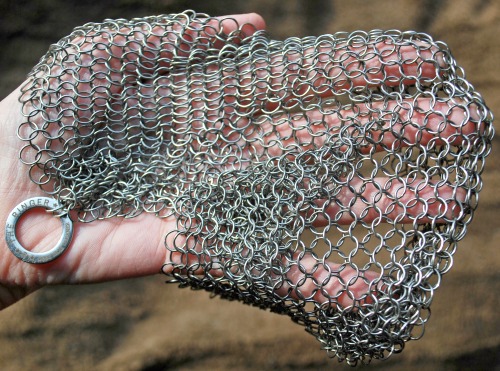 I have two Le Creuset cast iron pans that I adore. The one I use most is a standard skillet. It's usually not too difficult to clean, although things like scrambled eggs can be problematic. My other Le Creuset piece is a grill pan, ideal for grilling chicken breasts and burgers indoors. But cleaning that pan has been a nightmare, with grease, gunk, and food bits getting stuck between the raised ridges. As you can imagine, I was excited to try the Ringer on my two prized Le Creuset pans.
My verdict: The Ringer works! It doesn't even require any hard scouring. Part of the trick is not letting the pan cool completely before washing it, so the grit and grease release easily with warm water and a scrubbing with the Ringer. Because the chainmail is flexible, it easily cleans between the ridges on my grill pan, and because the rings have no rough edges, it doesn't harm the cast iron surface or seasoning.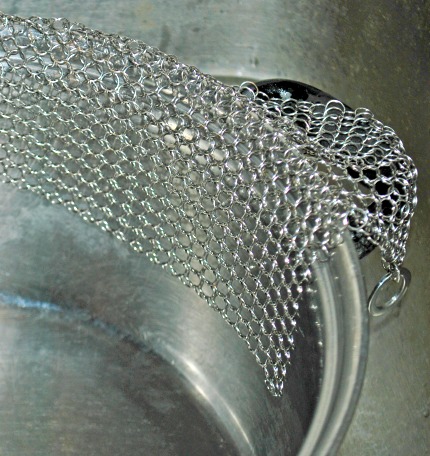 I also used the Ringer on a stainless steel pot that had gone through a cycle in the dishwasher after being used for mashed potatoes. When I took it out of the dishwasher, there were still some crusted-on potatoes in places (ewwww). After a few minutes with the Ringer, it was clean and shiny. I can say with certainty that I will never buy steel wool soap pads again!
For more information or to buy The Ringer, visit their website. The Ringer is also available for purchase at Amazon, where it has a rating of 4.8 out of 5 stars; while there, you can check out user reviews and get some helpful tips and tricks from the many Customer Questions and Answers. If you have cast iron cookware or are looking for a greener alternative to things like steel wool, you might want to consider the Ringer.
* This post contains affiliate links. If you make a purchase, we may or may not receive a small commission which helps to support this site. Thank you!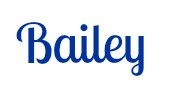 Disclaimer: A. Bailey received a complimentary product for review purposes & feature on The Classy Chics blog. No monetary compensation was received. A. Bailey's thoughts, opinions and words are 100% her own. Your thoughts may differ.