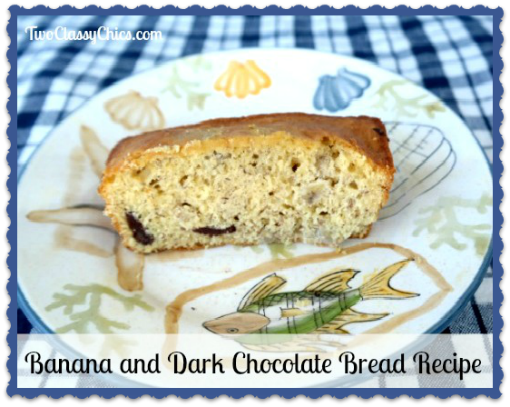 Baking…it's a passion of mine. I love to get into my kitchen several times a week to bake homemade treats for my family and friends. Most of the time when I'm baking up something delicious, I'll make it completely from scratch. At other times if I'm in a hurry, I'll use a cheater recipe to save time.
With this recipe you can bake it from scratch or you can "doctor up" a box of white cake mix and get great results too! You'll find BOTH versions below and underneath the recipe you'll get information about the delicious dark chocolate that I used in the recipe.
Homemade Banana Bread Recipe
1/3 cup butter, melted
2/3 cup granulated sugar
2 medium eggs
1 cup mashed ripe bananas
3 tbsp. milk
2 cups all-purpose flour
1 tsp. baking powder
1/2 tsp. baking soda
1/4 tsp. salt
1 dark chocolate bar from Honduras Chocolate Company, chopped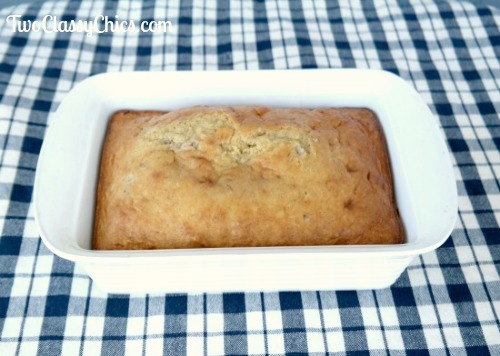 Preheat  oven to 350 degrees F. Spray a loaf pan with non-stick cooking spray.
In a large mixing bowl beat together the butter, granulated sugar and eggs until fluffy and creamy. Blend in the mashed bananas and milk.
In a separate mixing bowl sift together the all-purpose flour, baking powder, baking soda and salt. Gradually beat this mixture into the wet mixture until well combined. Chop up the dark chocolate bar from Honduras Chocolate Company into bite-sized chunks. Hand stir the chocolate bar chunks into the batter until well-combined.
Pour the batter into your prepared loaf pan. Bake in a preheated 350 degree F oven for approximate 45 to 50 minutes or until done. Remove and let cool.
Cheater Recipe Version: Take a box of white cake mix and follow all of the directions on the box to prepare the batter. Mix in 1 1/2 cups mashed, ripe bananas and 1 chopped dark chocolate bar from the Honduras Chocolate Company. Pour batter into loaf pan and bake as directed above.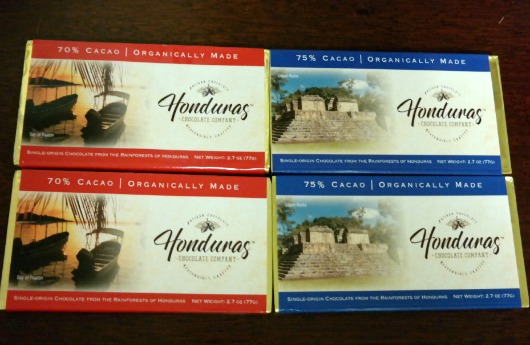 Our sponsor today for this recipe is the Honduras Chocolate Company and I wanted to share some information with you about the company and their delicious products.
The company uses ONLY organically grown cacao and their chocolate bars are made using only cacao and pure cane sugar. The company's mission is to make a difference in the lives of the Honduran farmers and their communities by paying better than fair trade prices, providing essential business training, micro loans and access to agricultural resources.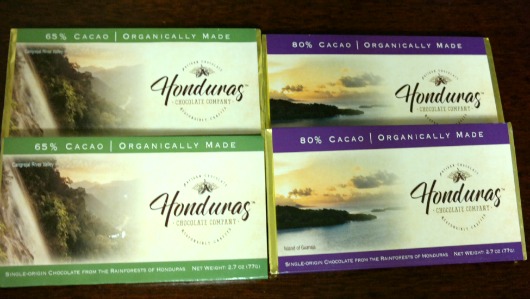 I received several of the dark chocolate bars from the Honduras Chocolate Company and let me tell you, they're delicious! You can eat these bars as a little chocolate snack or you can break them up and toss into various recipes (like the one I'm featuring today) or melt them down and make a delicious chocolate sauce. Having organic dark chocolate in bar format is very versatile and you can use them in many different ways! I like breaking off one or two pieces and tossing them into my homemade hot cocoa or hot coffee…gives a delicious taste to any hot beverage! In addition, I've broken the bars into pieces and then tossed them into my pancake batter or waffle batter. Again, delicious results!
You can learn more about the Honduras Chocolate Company and their products by visiting their site online and you can follow them on Facebook too!
* This post contains affiliate links. If you make a purchase, we may or may not receive a small commission which helps to support this site. Thank you!

Disclaimer: Shelly H. has personally reviewed the product listed above. Shelly has not received any monetary compensation for her review. She did receive a free product to try out so she could evaluate and use it for her review. Her thoughts & opinions in this review are unbiased & honest and your opinions may differ.