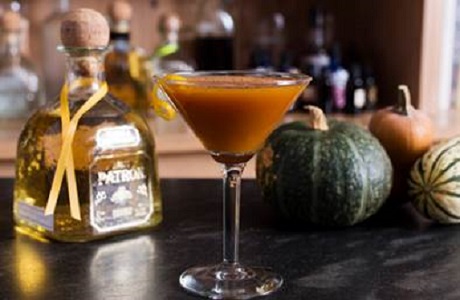 'Tis the season for everything pumpkin and that includes some delicious cocktails too! How cool would it be to serve some easy-to-make Pumpkin Pie Martini's at your next cocktail party? I think your guests would really be impressed. Heck, who needs a party? I would whip these up and enjoy relaxing at home after the kids have gone to bed. If you're tired of the fruity, time to give pumpkin a try!
Pumpkin Pie Martini Cocktail Recipe
1.5 oz Patrón Añejo Tequila
2 oz Orange juice
1.5 oz Pumpkin puree
1 oz Lemon juice
1 oz Honey pumpkin spice syrup*
Ice cubes
Pumpkin pie spice blend, for dusting
Orange twist, for garnish
In a cocktail shaker, add all of the ingredients for the pumpkin pie martini, except the spice blend and orange twist, and shake. Strain the cocktail into a martini glass, dust with the pumpkin pie spice blend and garnish with an orange twist, then serve. *For the honey pumpkin spice syrup, whisk together 1 cup water, 1 cup honey, and 2 tsp pumpkin pie spice blend in a small pot. Over high heat, bring the mixture to a boil. Once at a boil, turn off the heat and allow the syrup to completely cool.
* This post contains affiliate links. If you make a purchase, we may or may not receive a small commission which helps to support this site. Thank you!