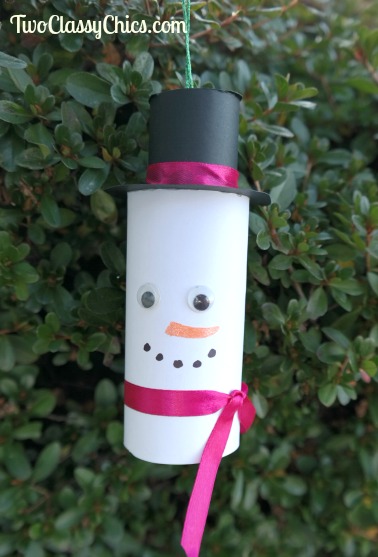 Last weekend I had my little 7 1/2 year old granddaughter over for a play date & craft date with Nanny. Twice a month we like to get together and sit down to craft. I'm pretty lucky as a crafter, that the Princess enjoys crafting too. It's always a lot of fun and we make an entire day of it.
One of the ornaments that we made a few days ago were these super easy-to-make Paper Snowman Ornaments that are made from empty toilet tissue rolls. You know, that ugly brown cardboard tube? Well, we transformed them into cute Christmas tree ornaments!
Kid's Crafts: Toilet Paper Tube Snowman Ornaments
white construction paper or scrapbooking paper
black construction paper or scrapbooking paper
empty toilet paper cardboard tubes
wiggle eyes
all-purpose craft glue
glue stick
Sharpie markers: black and orange
scissors
satin ribbon
metallic hanging thread or embroidery floss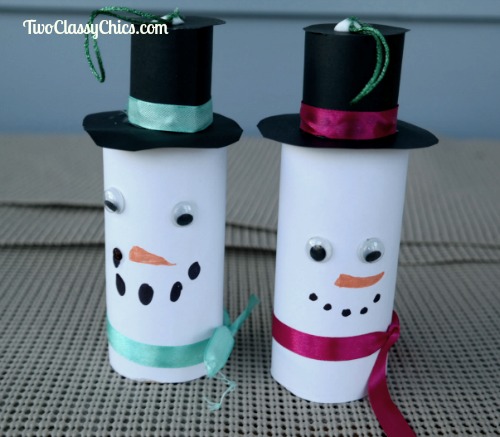 Getting Started: Lay the empty cardboard toilet paper tube down onto the white paper and use a pencil to trace around it, adding on an extra 1/2″ to the length. Use scissors to cut out your rectangular shape. This white paper should cover the entire toilet paper tube with an extra 1/2″ to overlap and glue down on the back (the seam). For the gluing, we used a simple glue stick, the kind you use with paper crafting.
To make the top hat: Place the toilet paper tube down onto black paper and trace around the diameter to come up with a circle shape. When cutting out the circle, you want to cut it out 1/2″ larger than your traced design. This will serve as the brim of the top hat, so the circle needs to be a little larger than the circumference of your snowman. Cut a strip from black paper that measures 2″ by 4 1/2″ in size. This will be the band for the top hat. Glue the ends together with a glue stick to form the ring (the band). Cut a circle from black paper slightly larger than the diameter of a quarter. This circle will serve as the top of the hat. Use your scissors to poke a small hole in the center of that circle. Cut a piece of hanging metallic thread or embroidery floss 4″ in length. Tie it together to form a loop and thread it up through the poked hole & glue into place. Now assemble your top hat pieces together, glue them into place and on top of your constructed snowman.
Finishing: Use all-purpose craft glue to glue on the wiggle eyes. Use the orange marker to draw on a carrot shaped nose and the black marker to draw on his "coal" mouth. Cut two lengths of satin ribbon…one to fit around the circumference of the top hat and one that is a lot longer to tie around his neck to serve as his scarf. Glue them into place using the all-purpose craft glue. That's it, your done!
* This post contains affiliate links. If you make a purchase, we may or may not receive a small commission which helps to support this site. Thank you!