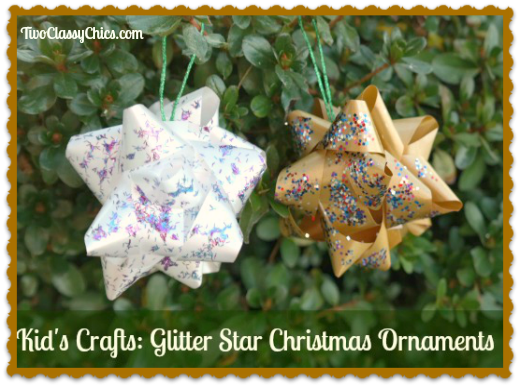 When I was a little girl our Christmas Tree was always filled-up with homemade ornaments. I would estimate that 90% of the Christmas ornaments that hung on our tree were handmade. As every year passed by, we would sit down & remember what we made, where we made it and when. It's always fun reliving those memories and for the past few years, I've been doing the family tradition with my granddaughter.
I put up three Christmas trees every year. One is done in my beach & coastal theme, one is done in all store-purchased ornaments and the third (a 5 foot tree) gets decorated in homemade ornaments. This year, there will be 12 new additions to that tree, all handmade by my little granddaughter. When she reaches adulthood, all of the ornaments will be hers!
Here is our next Crafting with Kid's feature on the blog and yes, it's another easy-to-make holiday ornament. Plus, you'll want to save all of your gently previously-used gift package bows after the holiday  & throughout the year, so that you can make this super-easy craft. Plus, I'll be publishing 2 more craft project ideas in the coming months that utilize upcycled gift package bows!
Kid's Craft Project: Glitter Star Christmas Tree Ornaments
Gift-Packaging Bows
All-Purpose Craft Glue
Fine-Grade Glitter
Paint Brush
Water Dish, Plastic Lid and Paper Towels
Newspaper
Clothespins
Metallic Hanging Cord
Scissors
Note: For this project we used glitter and liquid glue from Yoobi.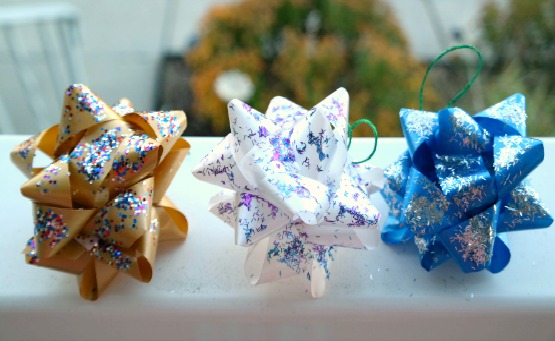 Lay newspaper down on your work surface. Glue and glitter can be messy!
For each ornament, you'll need two matching gift-packaging bows. For each ornament, cut a 5″ long piece of metallic thread and tie it into a loop. Pull the backing off each bow and stick both bows together to form a star shape, while sticking the knotted end of the hanging loop (cord) in between them.
Using liquid glue…glue the outer edges & loops of the bows together, this is for extra security, so that the two bows don't pull apart easily. We used wooden clothespin to clip them together and left them thoroughly dry. Once dry, remove the clothespins.
* This post contains affiliate links. If you make a purchase, we may or may not receive a small commission which helps to support this site. Thank you!
Squirt some liquid glue onto a plastic lid (we use butter dish lids) and mix in just a few drops of water, just to thin it down a tiny bit. Use a paint brush and brush the glue mixture onto the loops of the bow. You only need a thin layer on the areas that you want the glitter to stick. The glitter from Yoobi is fantastic and comes in little shaker bottles. Let the kids shake the glitter onto the areas where the glue is wet. They can add a lot or a little glitter, entirely up to them. They can use one color or mix several colors together, let them get creative.
Lay the ornaments on newspaper or a plastic placemat to dry overnight. Once done, shake them a little bit onto the newspaper, so that the excess glitter falls off and you can discard it. That's it, you're done! They are now ready to hang on the tree!