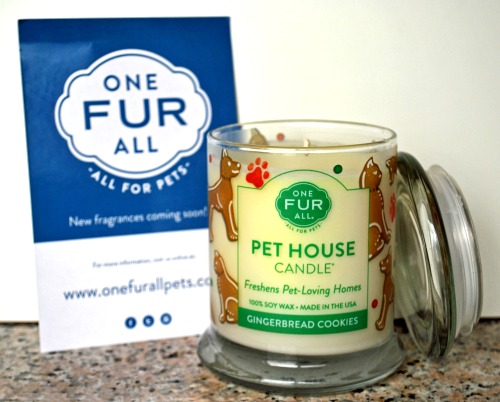 For the second time, I have the privilege of reviewing a seasonally-scented One Fur All Pet House Candle. My first candle was from their autumnal candle line, and I love it. My new candle, the one I want to tell you about today, is a fun Gingerbread Cookies candle from their winter collection.
Unlike most candles that simply impart an aroma, One Fur All Pet House candles are formulated specifically for homes with pets to eliminate pet odors rather than just masking them. One Fur All accomplishes this by including odor neutralizers along with a blend of essential oils in their soy wax candles. But does it work? I can most emphatically assure you that it does!
Our cat's litter box is located in the laundry room, which happens to be adjacent to the living room. Because of this, there have been times when the living room is not a particularly pleasant place to be, as I'm sure you can imagine. But now I'm armed and ready: At the first whiff of litter box odor, I light my Gingerbread Cookies candle, and within minutes, I almost forget I have a cat. The candle's scent isn't overwhelming or perfumy, but rather a light and very pleasing fragrance, and you'd never know there's a cat or his litter box anywhere nearby.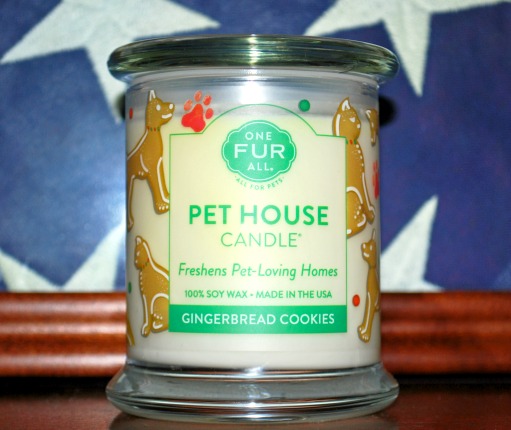 As a bonus, the candle comes in a reusable glass jar with a tight-fitting lid. The seasonal overwrap on the Gingerbread Cookies jar is decorated with cute gingerbread cookies in dog and cat shapes, with red and green paw prints and dots scattered around them.
One Fur All's Winter Fragrances collection includes Candy Cane and Gingerbread Cookies, available as 8.5 ounce candles, 1.5 ounce mini candles for smaller spaces, and 3 ounce paw-shaped wax melts. Two more scents in the collection, Evergreen Forest and Holidays, are also available as paw-shaped car fresheners. If you can't decide which scent to choose or if you want stocking stuffers, consider the Winter Mini Candle Sampler with three mini candles, or the Mini Candle Sampler Seasonal Mix, which contains ten mini candles, one each of the Winter Fragrances and Fall Fragrances.
All of One Fur All's Pet House Candles are hand-poured 100% natural soy wax and contain no dyes or paraffin. They're made in the USA, and are allergen free and nontoxic. But if that doesn't make you feel good about the company, perhaps this statement from their website will: "Our mission is to make products that help create a more-loving environment, contribute to finding homes for rescued animals and spread the joy of being a fur family. That's why we are One Fur All … and all for pets."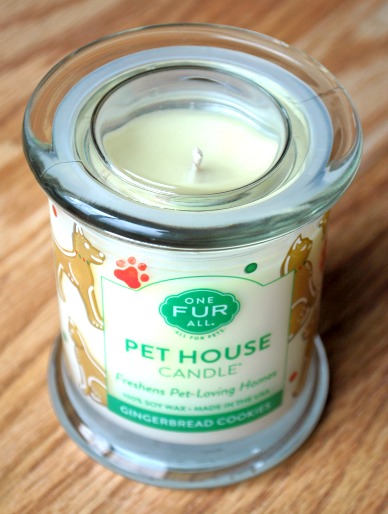 Speaking of One Fur All's website, you can use a store locator there to find a retail location near you. You can also shop directly from them, with free shipping on orders over $45 and a satisfaction guarantee. While you're browsing their website, be sure to check out their blog, which has lots of helpful information for pet owners.
Giveaway: One lucky winner will win the same candle I reviewed, the 8.5 ounce One Fur All Pets House candle in the Gingerbread Cookies scent. Please Note: If you have won any giveaway from any blog sponsored by One Fur All Pet House Candles, you're ineligible to win another giveaway until 1 year has passed. Thank you!
Giveaway Details: This giveaway is open to residents of the US ONLY age 18 and over. Please read our Terms of Service & Disclaimer Policy before entering. This giveaway will close on December 13th, 2016 at 11:59 pm EST time. No purchase necessary to enter or win.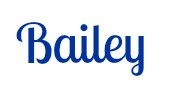 Disclaimer: A. Bailey received a complimentary product for review purposes & feature on The Classy Chics blog. No monetary compensation was received. A. Bailey's thoughts, opinions and words are 100% her own. Your thoughts may differ. Please read the blog's terms of service policy before entering any giveaways. The Classy Chics are NOT responsible for prize fulfillment or shipping of any items won from this blog.