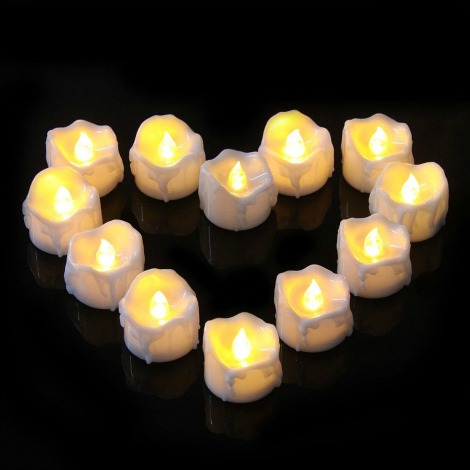 I love candles, but I admit…I don't often use traditional candles around my home due to them being a fire hazard. I prefer to use battery-operated (flameless) candles which are a safer option and they can be tucked into all kinds of different nooks and crannies around your home.
During the holiday season we do a LOT of entertaining and often have guests in our home every weekend from Thanksgiving to New Year's. I love to sprinkle flameless candles around our home, especially in our kitchen, dining room, family room and guest bathroom. I like to sit them up on a wall shelf, on a bookcase, the fireplace mantle, buffet table and of course, the dining room table. Candlelight can really "set" the mood.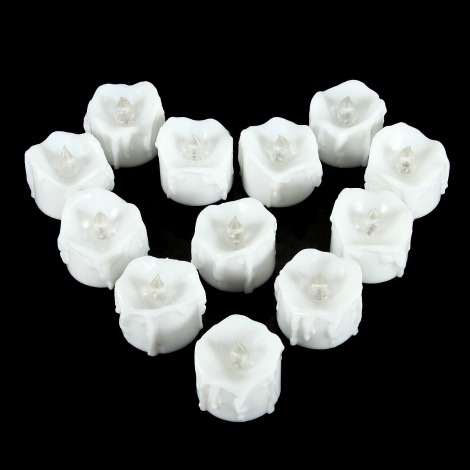 For this holiday feature I was sent a box of the Sunlighte Flameless Flickering Tea Lights to review for all of you. You get 12 tea light candles per box and all of them include batteries. They are made out of light-weight plastic, but have realistic looking wax-drips around the outside to give them a realistic look.
On the bottom of each one you'll find a little toggle switch to turn them on and off. If you run them continuously, they will lost approximately 12 days. If you use them for a few hours here & there…they should give you 72-100 hours of light. For myself personally, I like to run them 2-4 hours a time when I'm entertaining or just need a little bit of flickering candlelight to help set the mood.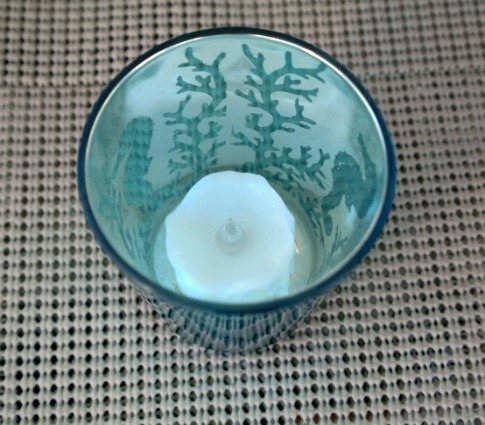 The cr3021 battery is included for each one and once the battery has expired, you can easily replace it by opening up the bottom of the candle. With that said, for this price, you can certainly just buy another set of them which I think would be more cost efficient. Just saying.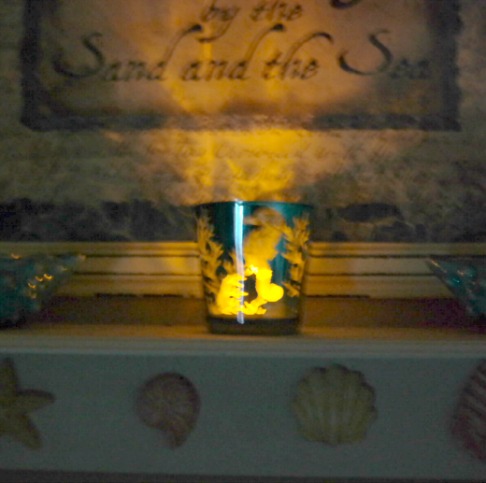 For the purpose of this feature I placed a few of them into some glass votive holders that I have sitting on a shelf in my master bedroom and a few in some glass votive holders that I have in my one guest bathroom. I love the little size of these tea lights and the flickering light that you get from them looks realistic from a distance. I tried to photograph them in the dark so that you could see the light, but my camera flash kept coming on and wiping them out. Sorry, the photo above is the best I could do with that.
Currently, you can purchase the entire box of 12 of the Sunlighte Flickering Tea Light,Flameless LED candles with Battery-Powered(Included) for Wedding, Home and Party Decorations, Set of 12, Yellow, 1.4″x1.7″
from Amazon for a really great price! Plus, if you have Amazon Prime, they'll ship for free! A definite must-have for party entertaining in my book!
Giveaway: One lucky winner is going to win a 12-pack of these adorable flameless tea light candles! The winner will receive an Amazon gift code to order the product from Amazon. If you have Amazon Prime, free shipping, if not, you're responsible for paying shipping. The Amazon code can ONLY be used on this product and ONLY covers the purchase price.
Giveaway Details: This giveaway is open to residents of the US ONLY age 18 and over. Please read our Terms of Service & Disclaimer Policy before entering. This giveaway will close on December 5th XXX, 2016 at 11:59 pm EST time. No purchase necessary to enter or win.

Disclaimer: Shelly received a complimentary product as featured in this blog post. No monetary compensation was received. Shelly's thoughts and words are 100% her own unbiased opinion on the company & products being featured today. The Two Classy Chics are not responsible for prize shipment or fulfillment. This post may contain affiliate links. If you purchase an item through an affiliate link, we may receive a small commission which helps to support this site.