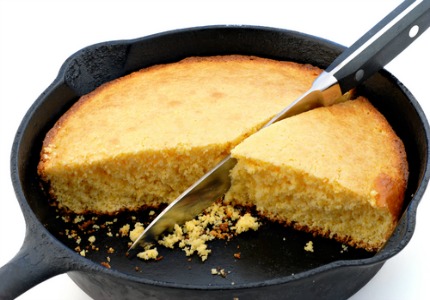 My grandmother is 67 years old and last year she started to have severe stomach issues. After many tests, my grandmother's doctor insisted that she go onto a gluten-free diet. Since that time, we've been incorporating a lot of gluten free meals into all of our daily diets. When I'm looking for recipes, I always turn to the internet and today, we're sharing a great recipe with all of you, just in-time for the holidays.
This guest post recipe is courtesy of Blends by Orly. You can visit their website for information about their products and to print off additional recipes at your leisure. This recipe makes 10 servings.
Gluten Free Holiday Corn Bread Recipe
1 ¼ cups Blends by Orly Sydney Blend
¾ cups corn meal
¼ cup sugar
2 tsp baking powder
½ tsp salt
1 cup milk
¼ cup vegetable or canola oil
1 egg, beaten
1. Heat: Pre-heat oven to 400 degrees F. Grease an 8 or 9" round or square pan.
2. Mix: Combine Sydney Blend, corn meal, sugar, baking powder and salt in a bowl and mix together to combine. Stir in milk, oil and beaten egg until all ingredients are evenly incorporated and batter is thick.
3. Bake: Transfer the batter into your prepared pan. Bake the corn bread for 20 minutes, or until light golden brown and a toothpick inserted in the center comes out clean. Best eaten warm with honey.
* This post contains affiliate links. If you make a purchase, we may or may not receive a small commission which helps to support this site. Thank you!