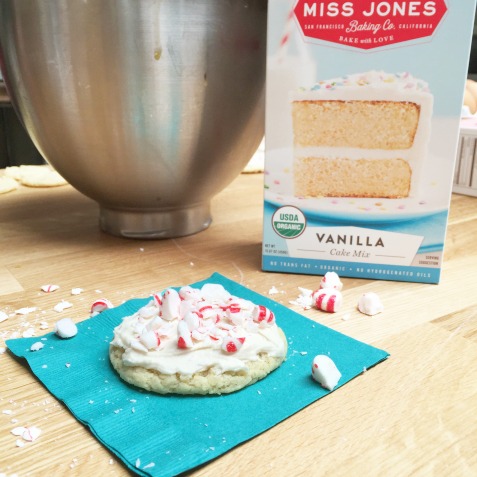 For the past twenty years, the girls in my family get together for a day of holiday baking and fun! We send the guys out to go play golf and to see a movie, while we spend the day baking up some delicious holiday treats. During our family baking party, we play Christmas music and sample some local wines. We like to bake holiday cookies, brownies, cakes, pies, breads and muffins. We bake dozens upon dozens of them and we share them with other members in our family and donate some to the local senior center for the seniors to enjoy too!
I just learned about Miss Jones Baking Co. and am so excited about using them to bake this year!. Not only are their baking mixes and frostings completely and utterly drool-worthy—they're certified organic, non-GMO, plant-based, responsibly sourced, and contain no artificial colors or flavors. Talk about guilt-free indulgence!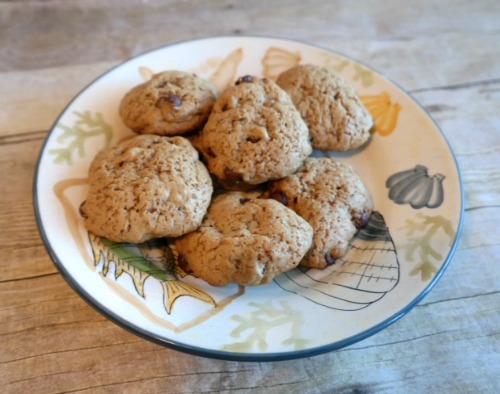 We received a complimentary package of the Miss Jones Baking Co. Sea Salt Chocolate Chip Cookie Mix and prepared it last weekend during our baking fest. None of us have ever heard of Miss Jones Baking Co., so we were super excited to make the cookies and then give them a real taste-test! What's really cool is that the mix is pretty complete and the only 2 ingredients we had to add was 1 egg and the unsalted butter. Preparation took less than 5 minutes and in less than 10 minutes we had delicious cookies to enjoy. How delicious you might ask? Well, all 6 of us had them devoured in an hour and had none left to share! Seriously, they are that good!
Between November 11th and December 23rd, 2016,  Miss Jones Baking Co. is holding the Bake-it-Better Challenge, which gives you the chance to win a Grand Prize worth over $1,500—including a $1,000 gift card, the full line of Miss Jones products, a KitchenAid Mixer, William-Sonoma Goldtouch Baking Set, Scharffen Berger Chocolates, and much more!
Plus, every entry means $1 donated to the SF-Marin Food Bank. At this time of year, I know every little bit helps—so join in the fun and make the holiday season sweeter for everyone.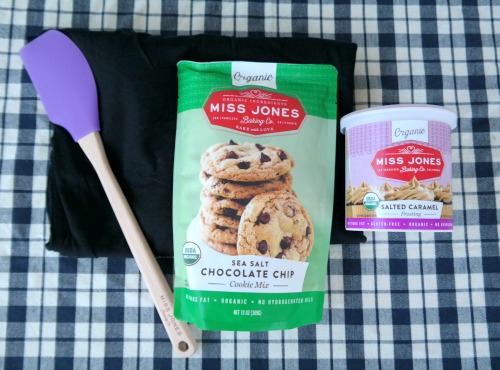 Participation is Easy! Here's How You Can Get Involved
Step 1: Bake something fantastic using a Miss Jones baking mix or frosting. Get creative—ideas like pumpkin cake bars, chocolate and pecan cupcakes, maple and walnut sugar cookies. The Miss Jones website has great inspiration, and using one of their mixes makes it super easy.
Step 2: Take a photo of your beautiful treat and post it to Instagram or Facebook using the hashtag #betterwithmissjones. If you're submitting via Instagram, be sure to tag @missjonesco, too! If you're submitting via Facebook, be sure to post your entry directly onto the official Miss Jones Baking Co. Facebook page.
That's it. For each entry containing the hashtag #betterwithmissjones, $1 goes to the SF-Marin Food Bank—and you can enter multiple times!
To learn more about the contest, go to Miss Jones Baking Co. website.
* This post contains affiliate links. If you make a purchase, we may or may not receive a small commission which helps to support this site. Thank you!

Disclaimer: Shelly H. received a complimentary product to feature & review on this blog. No monetary compensation was received. Shelly's thoughts, opinions and words about the product are 100% her own, unbiased opinion. Please read our Terms of Service & Disclaimer Policy before entering our giveaways. Thanks!