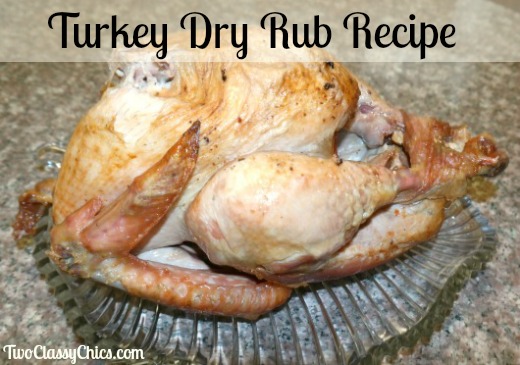 We have now entered the month of November and that means Thanksgiving is just around the corner. This month we'll be featuring several recipes here on TheClassyChics blog that would be appropriate for the holiday.
To kick things off, we've got this super easy recipe to make your own dry rub to season your turkey with. You only need a few ingredients to make it!
To get started, you'll want to brush 2 tablespoons of light olive oil all over your turkey. Then brush on 2 tablespoons of fresh lemon juice. Set aside.
Turkey Dry Rub Recipe
1 teaspoon salt
1 teaspoon onion salt
1 teaspoon chili powder
1 teaspoon dried oregano
1 teaspoon ground cumin
3/4 teaspoon garlic powder
1/4 teaspoon ground allspice
1/4 teaspoon ground black pepper
Mix together all of the dry ingredients (herbs and spices) listed above in a little bowl, until combined. Sprinkle them all over the turkey, rubbing them in by hand. Cover the turkey and refrigerate for a couple of hours or overnight. This will allow the spices & herbs more time to flavor the meat. Remove from refrigerator and bake until done.
Note: To keep your turkey moist during the baking process, make sure you baste it often with the drippings. We keep our bird covered for most of the baking process and then uncover during the last 60-90 minutes to allow the skin to brown.