The holidays are coming and often times we struggle to find good quality entertainment for the littlest ones on our holiday gift-giving list. It's important as parents, grandparents and caregivers to little ones, that we enrich their minds with quality entertainment that teaches them important life lessons or have some type of educational value to them. One such program is Caillou from PBS Kids.
This brand new DVD was just released on October 11th, 2016, just in-time for holiday gifting! The DVD run time is 60 minutes in length and it's affordable at only SRP of $12.99.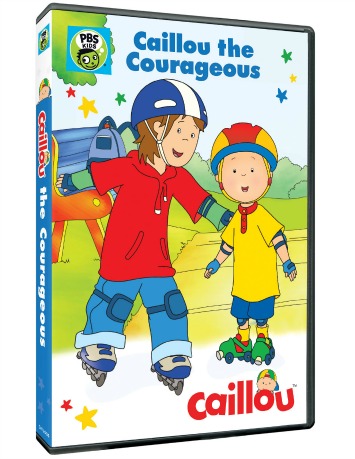 In select stories on this DVD, Caillou demonstrates perseverance, determination, and courage. In "Caillou Climbs," Caillou is nervous and scared to climb a rock wall at the local community center. After speaking with the instructor named Samantha, Caillou overcomes his fear and gains the courage he needs to climb the wall and ring the bell at the top! Also featured is the tale "Caillou Roller Skates." When Caillou goes to the park to try out his new roller skates he has a difficult time skating. After meeting his friend Daniel, who is a great skater, he's determined to keep practicing in order to improve.
"Caillou Climbs"
Mommy takes Caillou and Clementine to an indoor rock climbing wall, but Caillou doesn't want to give it a try. It's much too intimidating! Caillou overcomes his fear by literally taking things one step at a time.
"The Spider Issue"
After looking at a spider alien comic book with his older pal, Andre, Caillou becomes afraid of spiders. He's nervous around the house, until Daddy tells him some spider facts and shows him how cool spiders can really be…and Caillou has to agree; they ARE pretty cool!
"Caillou Roller Skates"
Caillou wants to learn how to roller skate…until he realizes roller skating is very difficult. With a little help and guidance from his friend, Daniel, Caillou decides to keep practicing, so his skills will improve – just like Daniel's did!
"Caillou's Shadow"
Caillou likes it when Miss Martin calls him a "shadow scientist"…so much so, he's afraid to admit he doesn't know everything about shadows. When Caillou's curiosity gets the better of him, he learns it's much easier to find the answers you're looking for when you ask questions.
"Say Lettuce!"
Caillou wants to take a picture of a bunny rabbit in Grandma's garden, but it proves a harder task then he originally thought. With a little perseverance (and a little lettuce from the garden) he finally sees the task through to the end – and gets a photo he's proud of!
"You're Not Miss Martin!"
Caillou isn't too happy when Miss Martin is away and his preschool class has a substitute teacher – Mrs. Shelley. She does everything differently and isn't familiar with the usual routines. When Caillou tries to see things from Mrs. Shelley's perspective, he decides to give her another chance…only to realize how wonderful Mrs. Shelley really is…even if she isn't Miss Martin.
"Cailloodles"
Jeffrey and Jason are having fun making up silly names for their classmates. But they don't realize they're hurting others' feelings. Caillou isn't sure what to do – until a chat with Daddy inspires him to speak up and tell Jeffrey and Jason how he feels. When the twins realize their jokes aren't funny to everyone, they decide to stick to calling only each other silly names.
* This post contains affiliate links. If you make a purchase, we may or may not receive a small commission which helps to support this site. Thank you!
My grandson is 14 months old and loves watching Caillou. As a grandmother, it's one of a very few programs that I allow him to watch. The characters are adorable, the story lines teach young children valuable life lessons and with every episode there is something important for your child to learn. This DVD has 7 fun episodes for your child to enjoy and in my honest opinion, it's GREAT quality programming by PBS Kids!
Giveaway: One lucky winner will win the Caillou the Courageous Children's DVD.
Giveaway Details: This giveaway is open to residents of the US ONLY age 18 and over. Please read our Terms of Service & Disclaimer Policy before entering. This giveaway will close on December 12th, 2016 at 11:59 pm EST time. No purchase necessary to enter or win.

Disclaimer: Shelly received a complimentary product as featured in this blog post. No monetary compensation was received. Shelly's thoughts and words are 100% her own unbiased opinion on the company & products being featured today. The Two Classy Chics are not responsible for prize shipment or fulfillment. This post may contain affiliate links. If you purchase an item through an affiliate link, we may receive a small commission which helps to support this site.