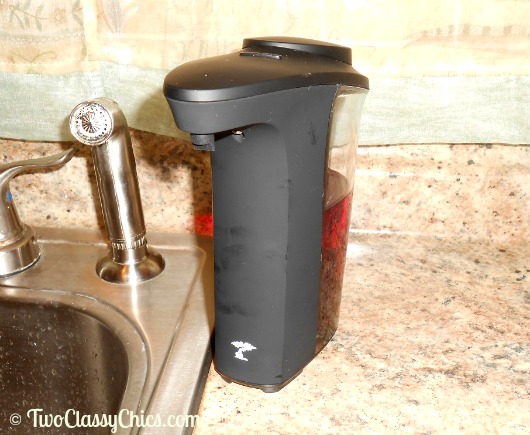 2016 Holiday Gift Guide Feature
As a ToiletTree brand ambassador, I've feature many of their products here on the blog over the past few years. I've featured soap dispensers, grooming tools, bathroom accessories and all sorts of different items. Now that our holiday gift guide for 2016 is getting into full swing, I'm super excited to introduce you to the next one.
I first want to admit that I'm a neat and clean freak! I seriously do NOT mind cleaning my home and I take great pride in keeping my home clean and organized. Part of that is due to the fact that I'm chronically ill, so I do everything I can to keep germs at a minimum.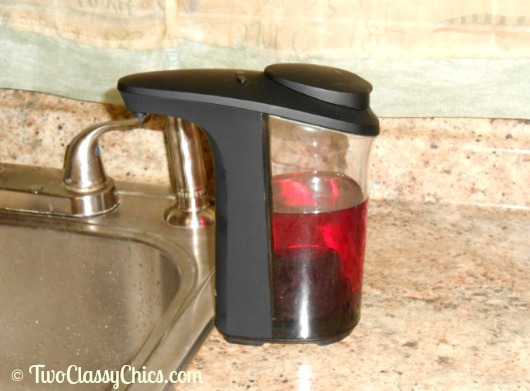 Recently I had the opportunity to review the Automatic Touchless Soap Dispenser from ToiletTree and I absolutely love it! I own many ToiletTree products and I've reviewed many too. This product is definitely in my top 5 favorite ToiletTree products!
You can use the soap dispenser in your bathroom or kitchen, I chose the kitchen since that's where I do a lot of my hand washing. Check out these awesome product features:
* Motion sensor technology provides sanitary, touch-free operation.
* Large capacity hold of 500ml of your favorite soap or lotion.
* Easy-to-use buttons control how much soap or lotion to dispense.
* Drip-free design.
* Sleek & Modern Design.
* Takes up very little space.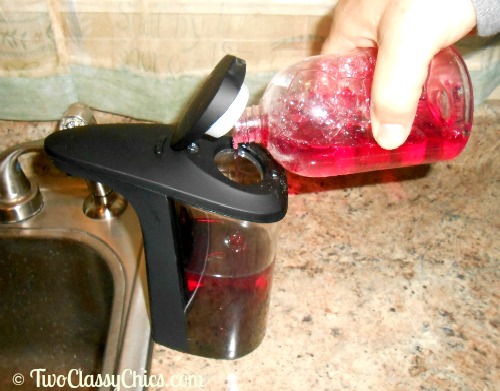 I had a huge bottle of cranberry liquid soap that I've been waiting to use, so I dumped the entire bottle into my new liquid soap dispenser and still had some room left. Often times when I've purchase liquid soap dispensers, I couldn't get all of my liquid soap into them and would have a little bit still left in the bottle. Not the case with this unit! In addition, it's super easy to refill your liquid soap when you need to.
Next, I love how little space it takes up. It's tall and slender, so it doesn't take up a lot of counter space or vanity sink-top space at all. It's very sleek and modern looking, so it will go with any kitchen or bathroom decor. I love how it looks sitting out beside my kitchen sink.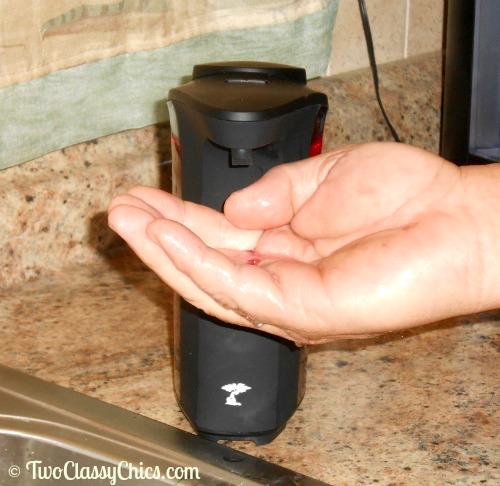 When you put your hand underneath the dispenser, it will automatically release some of your liquid hand soap or lotion. You don't have to touch the unit with your germ-filled, dirty and/or greasy hands at all. By not having to touch it, you're not spreading germs! Furthermore, by not touching it with dirty hands, it keeps the unit looking clean. Have you ever looked at dirty soap & lotion pumps before? I mean really? Ewwww! No thank you!
I absolutely love this thing! I get just the right amount of liquid soap dispensed into my hands and I LOVE LOVE LOVE that it doesn't leave any nasty drips on my counter at all. That's right, it's drip-free! Even my husband loves our new soap dispenser, we we're both giving it a 2-thumbs up!
* This post contains affiliate links. If you make a purchase, we may or may not receive a small commission which helps to support this site. Thank you!
Giveaway: One lucky winner is going to win an Automatic Touchless Soap Dispenser from ToiletTree. You're going to LOVE this thing!
Giveaway Details: This giveaway is open to residents of the US ONLY age 18 and over. Please read our Terms of Service & Disclaimer Policy before entering. This giveaway will close on November 23rd, 2016 at 11:59 pm EST time. No purchase necessary to enter or win.

Disclaimer: Shelly received a complimentary product as featured in this blog post. No monetary compensation was received. Shelly's thoughts and words are 100% her own unbiased opinion on the company & products being featured today. The Two Classy Chics are not responsible for prize shipment or fulfillment. This post may contain affiliate links. If you purchase an item through an affiliate link, we may receive a small commission which helps to support this site.