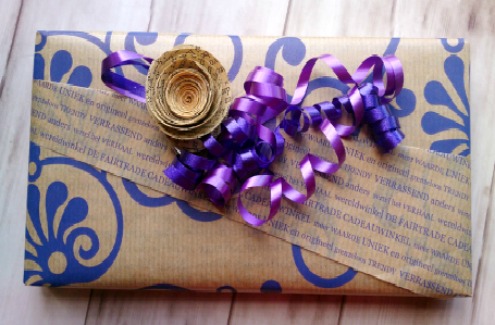 No matter what time of the year it is, wrapping gifts with your children is a fun, wholesome way to get them into the celebratory spirit. With a little patience and a lot of creativity, you will have beautiful gift wrap that is just as special as the gift inside. To get you started, here are 5 creative gift wrapping ideas for any occasion:
1. Birthday candles. Birthday candles are a cute, inexpensive way to jazz up a birthday gift. Using solid wrapping paper as a backdrop, carefully glue one to three candles on top of the wrapping paper. Write a special happy birthday message above or below the candles for a personalized touch.
2. Candy gift toppers. Candy gift toppers are perfect for holiday gifts, kid presents or even graduation gifts. Start off by using plain, solid wrapping paper to wrap the gift. Once this is done, tie a plain or striped piece of string around the gift. Wrap the ends of the string around a full-size bag of candy before tucking them beneath the string that is already wrapped around the gift.
3. Personalized packing tape. Branded packing tape is a crafty way to decorate a gift or seal holiday gift boxes. Companies like Continental Packaging allow users to submit their own artwork via email and have it printed directly onto one of several available types of tape.
4. Confetti bonanza. Kids will love this idea. Start by wrapping a gift in solid wrapping paper. Then use school glue to trace the path where you want the confetti to stick. Once this is done, have each child take a handful of confetti and sprinkle it over the gift. Please allow an hour to dry.
5. Monogram with yarn. Another creative gift wrapping idea is to use yarn to monogram a package. Once the package is wrapped in wrapping paper, use a pencil to trace the recipient's initials on the package. Trace over the pencil with a light layer of school glue. Top the glue with a line of yarn. Use one or multiple colors for added fun.
Wrapping gifts is an activity that can be enjoyed by the entire family. No matter how young or old your child is, they will enjoy wrapping gifts for their friends and loved ones. At the end of the day, you will have made family memories that will last for a lifetime.
* This post contains affiliate links. If you make a purchase, we may or may not receive a small commission which helps to support this site. Thank you!