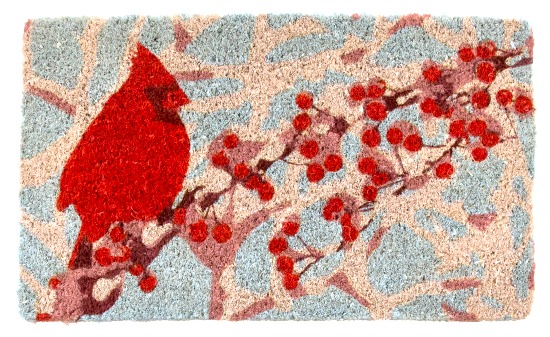 ** 2016 Holiday Gift Guide Feature **
When you walk into a home one of the first things you see is the door mat. I feel it's a very important home decorating accessory that every home should have. Your doormat should reflect your personality or your home's personality and decor. The mat should be beautiful, practical, functional and be affordable. On top of that, it should be updated frequently to reflect the different seasons of the year.
Today I get to introduce to you a wonderful company called Entryways. This company is your one-stop shop when it comes to finding and purchasing beautiful door mats and floor mats for your home. I love their vast selection of prints, colors, shapes and sizes that their doormats come in. Matter of fact, I own several of their mats (nine of them) and have reviewed several of them over the years. Yup, I'm a HUGE fan of this company!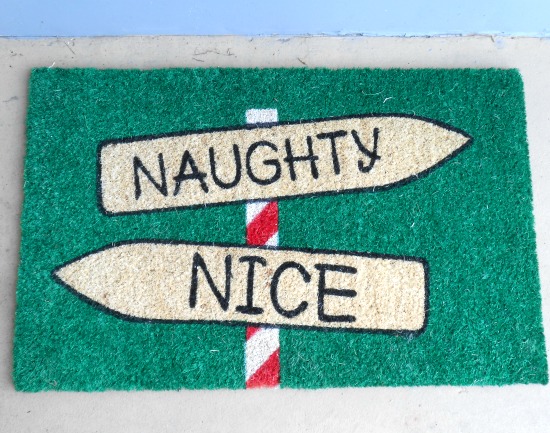 The company recently introduced several new holiday designs for the 2016 Holiday Season and you'll see a few of them featured here today and many more of their holiday designs over on their site. These door mats are extremely well-made and they really hold up well to the weather. I use them indoors and outdoors!
For this review I received a complimentary Naughty or Nice Non Slip Coir Doormat and it's fantastic! I really love the simplicity of this design and I can put it out the day after Thanksgiving and leave it out until the first of the year. It's part of their "Sweet Home Collection" and will work with many different home decor styles.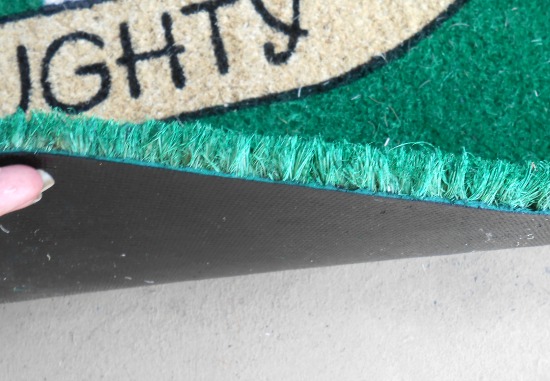 It measures 17″ by 28″ in size, so it's perfect for your front door and/or your back door. Next, I really appreciate the thickness of these doormats and I would call them semi-weighty. The thickness and weight of them keeps them from blowing off your porch or door step, and keeps them from shifting around during daily use. These are NOT flimsy mats at all and they feature a non-slip backing.
The design was hand stenciled with fade-resistant dyes. I can attest to the fade resistant because I own an Entryways mat that is now 3 years old and it still looks fabulous! They are made out of all-natural coir and when it comes to cleaning them…I primarily just sweep them off with a broom. Once in awhile I will hose them down with a garden hose and hang them up on my clothesline to dry. They do a fabulous job at keeping the dirt & debris outside and from coming into my home. Absorbent too!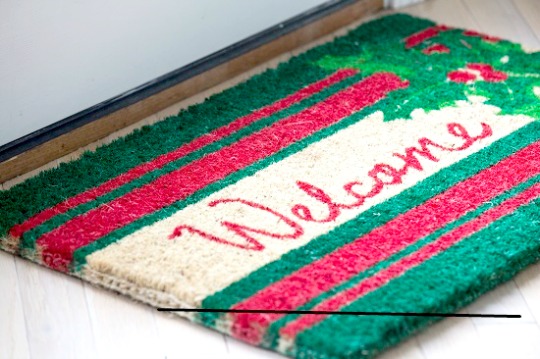 You can check out all of the beautiful doormats that Entryways has to offer by visiting their website online. You can also use the "search function" here on The Classy Chics blog (home page) to check out some of the previous reviews that I've done for them by using the keyword "doormats" in the search box. Plus, I invite you to watch the very cool Youtube video below on how the doormats are made.
Wasn't that video cool? I love seeing how products are made!
Giveaway: One lucky winner is going to win their choice of doormat from Entryways! The winner can select any design from the "P" or "S" mat collections.
Giveaway Details: This giveaway is open to residents of the US ONLY age 18 and over. Please read our Terms of Service & Disclaimer Policy before entering. This giveaway will close on October 25th, 2016 at 11:59 pm EST time. No purchase necessary to enter or win.

Disclaimer: Shelly received a complimentary product as featured in this blog post. No monetary compensation was received. Shelly's thoughts and words are 100% her own unbiased opinion on the company & products being featured today. The Two Classy Chics are not responsible for prize shipment or fulfillment.