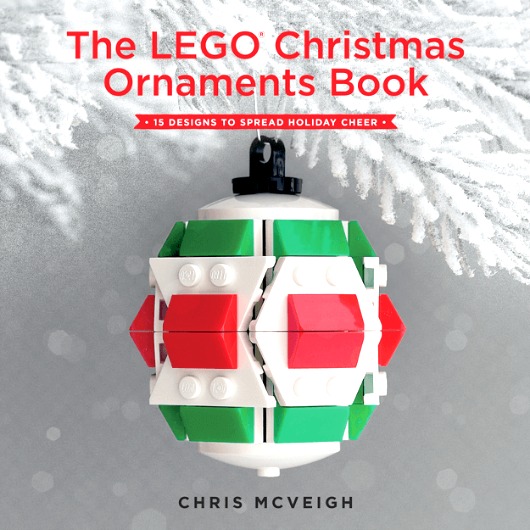 ** Holiday Gift Guide 2016 Feature **
Every year, families deck their trees with strings of popcorn, popsicle sticks, and gingerbread—but why not use LEGO?
This holiday season, LEGO fans can build lasting memories by making their own DIY ornaments with the help of The LEGO Christmas Ornaments Book. This new release from No Starch Press promises to liven up the holidays with its collection of hands-on projects that the whole family can build and enjoy for years to come.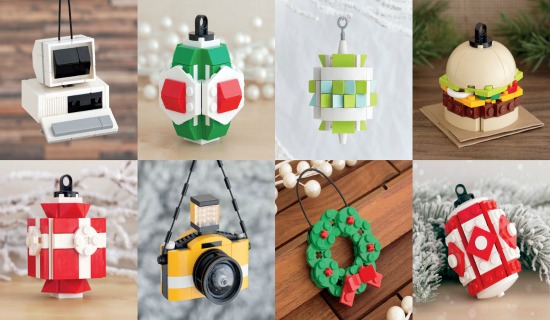 Title: The LEGO Christmas Ornaments Book
Publisher: No Starch Press
Author: Chris McVeigh
ISBN: 978-1-59327-766-6
With colorful graphics and detailed instructions, The LEGO Christmas Ornaments Book is the perfect gift for do-it-yourselfers and crafters. The 15 designs in the book include holiday classics like a wreath, snowflake, poinsettia, Christmas tree, and gingerbread house; fun stuff like a computer, arcade machine, and cheeseburger; and even simple geometric designs like a bow, barrel, and lantern. As author Chris McVeigh explains, "Whether you're looking for a traditionally-shaped ornament or want to add something fun and quirky to your tree, there's something for everyone in this book!"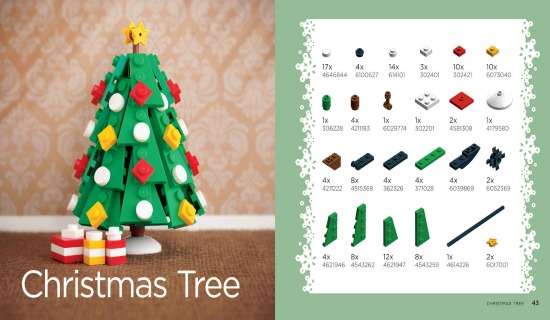 Each chapter opens with a project overview that features the finished ornament and then walks readers through detailed, step-by-step building instructions. And because not every reader has a massive LEGO collection, the book shows alternate color options, so readers can put their own unique twist on each ornament.
My Thoughts: My husband grew up playing with LEGO as a child and now that we're grandparents…he's playing with them all over again. Matter of fact, last month when we were out at the Flea Market, he purchased a huge box and 2 large bags full of LEGO's for the kids. What's great about them is that it allows children and adults to get creative! They can build all kinds of fun toys, buildings, vehicles and all sorts of other things.
With all of that said, who knew you could use them to decorate your Christmas tree? How cool is it to make homemade ornaments using the LEGO pieces? I mean seriously? That's so cool! Thanks to this book, my husband and the grandchildren have been busy building some super cool ornaments and they plan on decorating one of my smaller holiday trees with their creations once we put up our tree after Thanksgiving.
This book lays out each ornament design in a super easy-to-read format and gives you all types of tips & tricks to build them. Some of the designs are on the easy side and others are truly for advanced builders or for children with some adult help. Don't get me wrong, a lot of the older children and totally build these designs all on their own…but 5-8 year old's might need a little bit of help.
Now that hubby has this book, he wants to search out some additional books that feature cool LEGO designs. Yup, this book as totally got his LEGO addiction running into high gear once again! You can currently find it for purchase online and at some book stores across the nation. Hubby is giving the book 10 stars out of 10 stars on his rating scale and highly recommends it to all LEGO fans every where!
* This post contains affiliate links. If you make a purchase, we may or may not receive a small commission which helps to support this site. Thank you!

Disclaimer: Shelly H. received a complimentary product to feature & review on this blog. No monetary compensation was received. This blog post may or may not contain an affiliate link. If you make a purchase through an affiliate link on this site, we may or may not be paid a commission. Shelly's thoughts, opinions and words about the product are 100% her own, unbiased opinion. Please read our Terms of Service & Disclaimer Policy. Thanks!