One of the things I love about Sunday's during this time of the year is spending time with the family and watching all of the football games on TV. It's fun to see my Dad cheer on the Washington Redskins, my mother cheering for the Pittsburgh Steelers, my husband egging on the New York Giants and well, I love the Miami Dolphins! Sunday sure does get interesting around here.
When the family gets together for Football Sunday we all whip up a few foodie dishes and contribute to the party! You'll always find barbecue chicken wings, homemade guacamole & chips, steak fries, potato salad and all sorts of yummy treats. The guys typically have a few beers, while us gals sip on our favorite white wine. I love Sundays!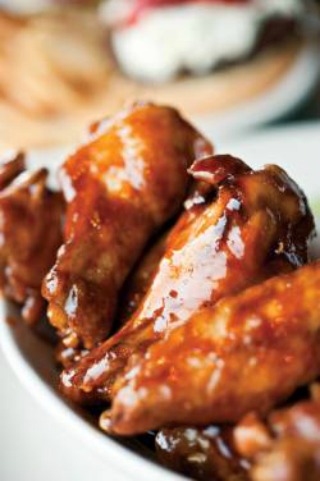 Today's guest post recipe is courtesy of In The Raw.
Teriyaki Chicken Wings with Hot Mango Dipping Sauce
Wings Ingredients
16 wings, about 3 1/4 pounds
1/2 cup reduced sodium soy sauce
1/2 cup reduced sodium chicken broth
1/4 cup mirin
1/3 cup Stevia In The Raw® Bakers Bag
2 tablespoons defrosted orange juice concentrate
2 garlic cloves, sliced lengthwise
3/4 inch fresh ginger, in 3 slices
Sauce Ingredients
1 cup diced fresh mango
2 tablespoons brown mustard
2 tablespoons orange marmalade fruit spread
2 packets Stevia In The Raw®
1 tablespoon fresh lime juice
1/8 teaspoon cayenne pepper
1/2 teaspoon salt
1/8 freshly ground pepper
2 tablespoons chopped scallions
Wings:
In small saucepan, combine all the sauce ingredients. Boil sauce over medium-high heat for 10 minutes. Cool sauce to room temperature. If desired, remove garlic and ginger, transfer sauce to tightly covered container, and refrigerate for up to 24 hours.
Preheat oven to 425° F. Line baking pan, 15" x 11" or larger, with foil. Coat 2 (10" x 10") wire racks with cooking spray and set in the pan, overlapping them.
Cut off first joint of chicken wings and discard. Arrange wings in prepared baking pan in one layer, smooth side up. Bake wings for 10 minutes.
Brush wings on both sides with sauce and bake, smooth side up, for 5 minutes. Brush with sauce again and bake, underside up, for 5 minutes. Brush wings a third time and bake, smooth side up, for 5 minutes. Brush wings again, and bake, underside up, for 10 minutes. Reduce oven to 400° F. Brush tops of wings with sauce and bake, topside up, for 10 minutes.
Arrange wings on serving plate. Discard any remaining sauce.
Sauce:
In mini-food processor, whirl all sauce ingredients except scallions together until smooth. Transfer sauce to bowl and garnish with scallions.
* This post contains affiliate links. If you make a purchase, we may or may not receive a small commission which helps to support this site. Thank you!