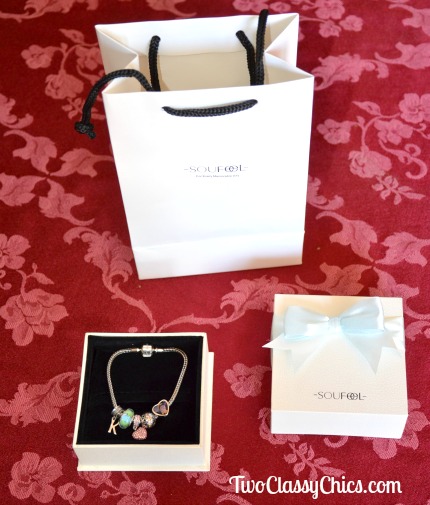 ** 2016 Holiday Gift Guide Feature **
Like many women, I love jewelry, but typically don't buy things for myself unless I really feel a connection to something. I was recently introduced to SOUFEEL and their personalized charm bracelets and found several charms that I thought were adorable and had to have them! Lucky for me, I was given a chance to choose a bracelet and a few beautiful charms to start my way to a beautiful and memorable piece of jewelry. The funny thing is, I like these charms and the bracelet so much, I've even gone back to the website loaded up my shopping cart with a few more!
SOUFEEL was founded in 2009 and provides a wide variety of jewelry featuring everything from bracelets and charms to earrings and rings. All of the products are high quality, yet affordable and made of 925 sterling silver. Many of the pieces can be personalized with photos and engravings and would make wonderful gifts, especially with the holiday season approaching.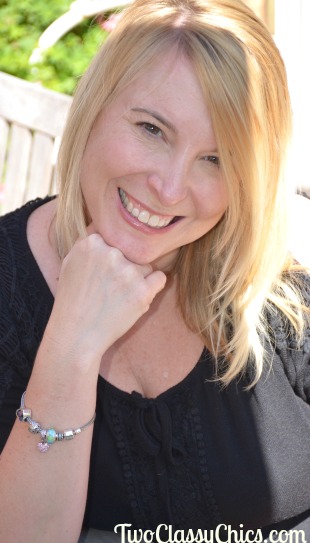 I've included some photos of my bracelet and the adorable (and meaningful charms) that I chose. Making your own bracelet is a fun and simple process that starts by choosing the bracelet. I chose a silver basic bracelet with a simple clasp. Make sure to measure your wrist in order to get a good fit. You don't want the braceletto be too tight or too loose. Next, it's time to make this bracelet a reflection of you (or the person you are buying it for). I think I spent at least an hour trying to decide which charms I liked best. There are so many to choose from —everything from birthstones and initials/letters and numbers to holiday charms and hobbies—if you are like me, you'll have at least 10 that you love right away! The charms are priced very affordably and the site also has special deals each day, so it's fun to check back often to view the latest sales.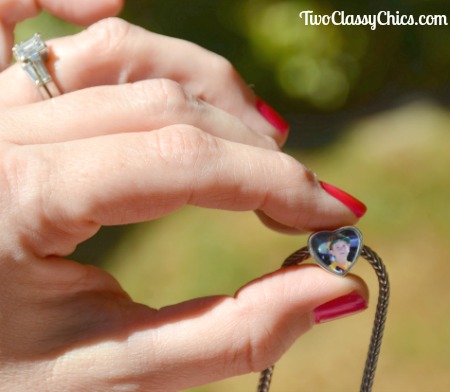 The charms that I ended up choosing were:
Personal Photo Charm – The SOUFEEL Personalized Sterling Silver Heart-Shaped Charm is a personalized charm in the shape of a heart. One side features a favorite photo (that you simply upload) and the other side is embedded with sparkling crystals. This is probably my favorite charm as I designed it with a photo of my son in his baseball uniform on it. He looks so happy in it and I love to have it with me. This is a wonderful, personalized gift to give yourself or someone you love. This charm is available for $25.
Birthstone Charm – I chose the November Birthstone Champagne Charm, which is a beautiful champagne-colored charm! In the smoky yellow tones of the November semi-precious birthstone Citrine, this charm captures a beautiful golden light that reminds me of fall (and my son's birthday, of course). Wrapped through the center of the charm is a small band of crystals that are held in place with polished silver studs and surrounded by tiny silver love hearts. This charm reminds me of two of my favorite things—my son and bubbly! This charm is available for $20.
Murano Glass Charm – Murano jewelry is absolutely beautiful and known throughout the world. I chose the Murano Glass Coconut Palm Tree set in .925 Sterling Silver. It's a gorgeous blue, green and white colored bead that reminds me of the look of a tropical island. It's an artistic design that I chose because we have an upcoming trip to Costa Rica. This is a very elegant and special addition to any bracelet. It is available for $20.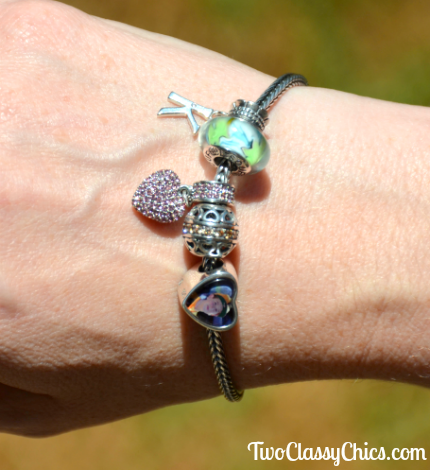 Pink Heart Pave – This was a charm that I just had to make mine. It is a sweet, sparkly and beautiful addition to my bracelet with its shimmering pink crystals. The stones have gorgeous facets, which allow them to shine and it dangles a little bit too, which makes it a fun addition to any bracelet. You could even wear this one on a chain and convert it into a very pretty necklace. This charm is available for $35.
Letter Charm – What better way to make your bracelet more personal than an initial charm? This stunning alphabet letter charms features a dainty design that is made up of a floral bead and dangle charm. I chose a dangle letter K charm in 925 Sterling Silver with CZ Stone. This is a really cute addition to my bracelet and makes it more "me." This charm is available for $15.95.
Overall, I love my bracelet and can't wait to add to it. This is a great company with a wide variety products to choose from. In addition, SOUFEEL offers free shipping on orders over $49 and they have a fantastic return policy offering a 365 day return and exchange policy.
They've even given us a special offer for you! They are giving you a 5% off coupon code. Simply add "Blogger5" to the promotion code section of the SOUFEEL site to get a discount on your order.

Disclaimer: Kristine has personally reviewed the product listed above. She has not received any monetary compensation for her review but did receive a free product to try out so she could evaluate and use it for her review. Her thoughts & opinions in this review are unbiased & honest and your opinions may differ. Please read our official rules for giveaways before entering. Two Classy Chics is not responsible for shipment of this product