If you've been reading this blog  during the past 7 years you will already know that I'm a self-proclaimed bath & body product diva. I keep myself well-stocked up on body washes, bath soaps, body lotions & creams, bath bombs, sugar scrubs and everything else! As my mood and seasons change…so do the products that I use.
With that said, I've always been a huge fan of the Softsoap Body Washes, especially their limited-edition collection that comes out at the beginning of each season. Having new fragrances to indulge in…keeps the boredom factor at-bay.
These new limited-edition body washes from Softsoap are formulated to re-hydrate dry winter skin, with festive scents like invigorating peppermint meringue and calming vanilla crème that spark holiday spirit and keep skin soft and smooth all season long.
For this review feature, I received 2 complimentary bottles of Softsoap body wash to try out for all of you. I received the Peppermint Meringue and the Vanilla Creme and they're available now through February 2017. Make sure you pick them up before they're gone!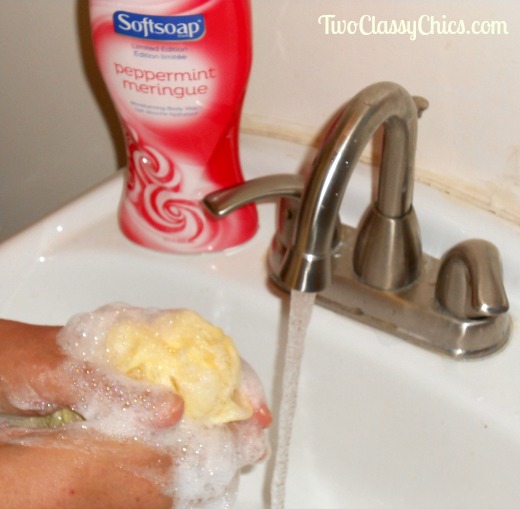 The Peppermint Meringue is a great fragrance to use early in the morning during your daily shower or bath. That peppermint scent is really invigorating and gets you moving for the day. It smells exactly like peppermint candies & candy canes. It's a real treat for your senses!
The Vanilla Creme is a great fragrance to use any time of the day. I really like crawling into my bathtub at night and lathering up with the relaxing & soothing fragrance of vanilla creme. It gets me relaxed for bedtime!
Both of these Softsoap body washes are fantastic! You get a really good lather with each one, they rinse quickly off your body and leave a light fragrance behind. Every time you hop out of the bath or shower, your skin will feel clean and hydrated.
These are limited-edition fragrances that would make a great holiday gift or pick them up and use them yourself. I know that I'll definitely be picking up a few of them to put into the holiday goody bags that I make up for female family members. They look forward to them every year!
* This post contains affiliate links. If you make a purchase, we may or may not receive a small commission which helps to support this site. Thank you!

Disclaimer: Shelly received a complimentary product as featured in this blog post. No monetary compensation was received. Shelly's thoughts and words are 100% her own unbiased opinion on the company & products being featured today. The Two Classy Chics are not responsible for prize shipment or fulfillment.