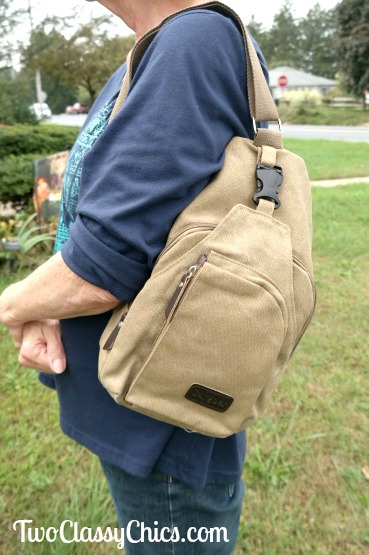 We do a lot of traveling and I'm always looking for various bags that travel well. I like to be very organized when I travel and I like every item that we take with us to have a function and it's own place. In my opinion, you can never have enough travel bags!
Recently I received a complimentary Canvas Sling Bag that can be worn cross-body, over the shoulder or just carried in your hands. One of the things I immediately loved about this sling bag is that it's made out of machine-washable canvas. Plus, since it's NOT made out of leather or a faux leather, it's super light-weight.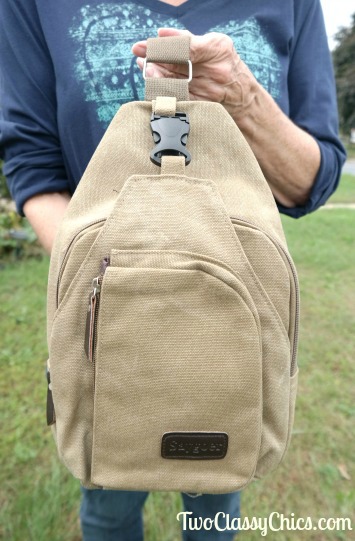 I think it's the goldilocks of sling bags and by that I mean that it's the perfect size, not too big and not too small. It measures 13.8 "x 7.9" x 2.8 in depth. This is the "unstuffed" measurements. Next, it comes in several different colors, I chose the khaki color, so that it's unisex. Both my husband and I can use this bag.
There are 4 compartments that make up this bag. There is an outside zipper closure pocket which is perfect for holding your cellphone, tickets, keys, ID badge and other small items. The next compartment is a reach-in pouch pocket that can hold your favorite paperback book, scarf or other small item(s). The main compartment of the bag has a zipper closure and that's where you'll want to put items that you want to keep secure. The outside back of the bag has a small zipper closure compartment that can be used for keys, ID, lip gloss, sunglasses or whatever.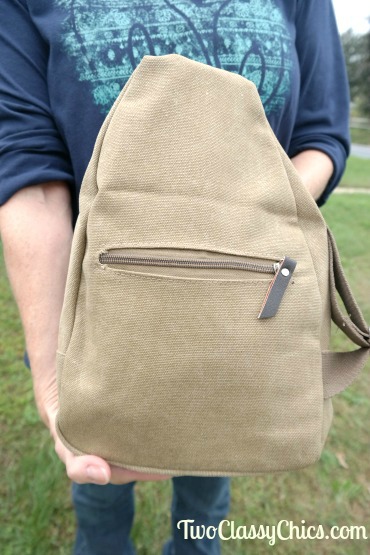 As I stated, we travel a lot and I took this bag with us on our weekend getaway. I have a $700 Samsung smart camera that I take with us and I carried it around in the main compartment of this bag. I then used the smaller compartments in the bag to hold my sunglasses, car keys, hotel keys, my photo ID, my wallet, a small pack of facial tissues and a few other personal items. It's the perfect bag to load up while you're on vacation and going out sightseeing for the day.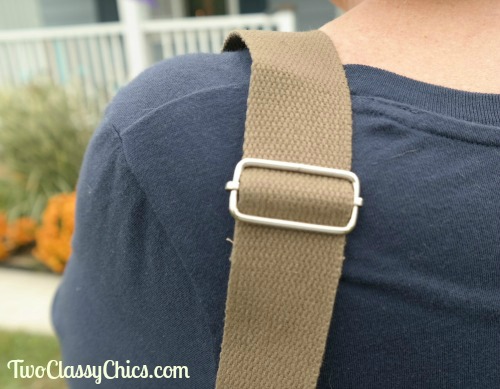 I like to be hands-free when we are out and about, so I used the adjustable shoulder strap to turn it into a cross-body bag. It fits really nicely against your body and even after you've loaded it up, it's still not too heavy to carry around all day long. Finally, if you tend to carry a large tote bag, backpack or carry-on bag when you're traveling, this sling bag will fit nicely inside a bigger bag, when you want to condense things down.
I'm really pleased with the quality of this bag and it's overall function. I can pack it into another bag (flat) and it weighs very little. The zippers and zipper pulls appear to be quality-made and the bag is perfectly styled to be used by both men and women.
* This post contains affiliate links. If you make a purchase, we may or may not receive a small commission which helps to support this site. Thank you!

Disclaimer: Shelly H. has personally reviewed the product listed above. Shelly has not received any monetary compensation for her review. She did receive a free product to try out so she could evaluate and use it for her review. Her thoughts & opinions in this review are unbiased & honest and your opinions may differ.