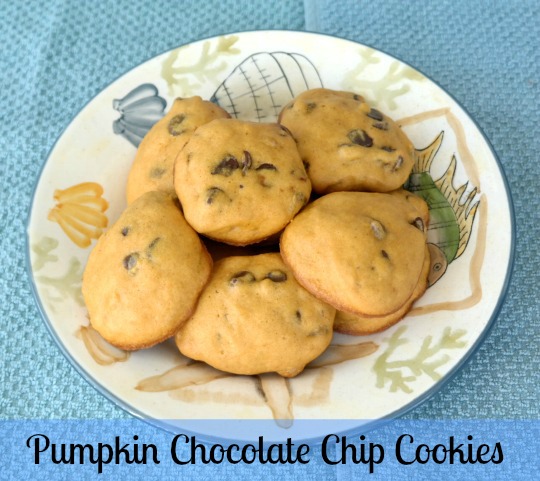 Every year for my dad's birthday he insists that either myself or my mother make him a big batch of Pumpkin Chocolate Chip Cookies. You see, dad isn't a fan of cake, so over the past 20 years, he enjoys cookies on his birthday instead of cake. When I was 15 or 16 years old my mom taught me how to make them, so most of the time when his birthday rolls around, mom & I get together and make his favorite cookies for him.

Pumpkin Chocolate Chip Cookies Recipe
Prep time:
Cook time:
Total time:
This recipe makes several dozens of cookies. I'm not sure how many, but I know it's at least 2 dozen if not more!
Ingredients
4½ cups all purpose flour
2 cups granulated sugar
2 tbsp. all spice
1 tbsp. ground nutmeg
½ to ¾ tsp. ground pumpkin pie spice
2 tsp. baking soda
1 tsp. salt
1 - 16 oz. can pureed pumpkin
1 cup vegetable oil
2 large eggs
2 tbsp. milk
1 tsp. vanilla extract
2 cups semi-sweet chocolate chips
Instructions
Preheat oven to 350 degrees F.
Grease cookie sheet. Mix together all of the dry ingredients in a large bowl. Add the pumpkin, oil, milk and vanilla extract. Beat with an electric mixer until well mixed together. Stir in by hand the semi-sweet chocolate chips until they're mixed through the entire cookie batter.
Drop by the tablespoonful onto your prepared cookie sheet. Bake in the oven for 10-12 minutes or until done. Remove and let cool on a wire rack. Once cookies are cool, store them in an airtight container.
Note
: You can make these cookies up ahead of time and freeze them for up to 2 months. We often make and bake double batches of them and eat one batch now and then eat the other batch in a month or two. To thaw, just let them thaw out at room temperature or thaw in your refrigerator for 2 days. These cookies are also great reheated up in your microwave for 5-10 seconds before serving.
* This post contains affiliate links. If you make a purchase, we may or may not receive a small commission which helps to support this site. Thank you!