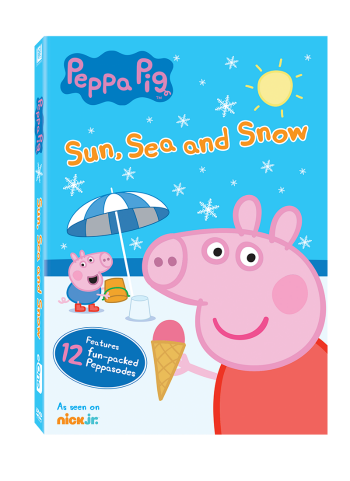 When my granddaughter was younger, she loved Peppa Pig. I can remember sitting down with her for hours and watching Peppa Pig on TV and/or playing with various Peppa Pig toys that she owned. Now that we have a little 15 month old grandson, Peppa Pig is again back into our lives. For some reason, Prince really LOVES watching Peppa Pig on TV and it's one of the rare times throughout the day that he'll actually sit still!
A brand new Peppa Pig children's DVD is available starting on Tuesday, August 18th, 2016 titled Peppa Pig: Sun, Sea and Snow. Here's some info about it.
Synopsis: It's always perfect weather for Peppa Pig's amusing adventures. Not even snow, rain, or fog can stop the wintry fun! Join Peppa, George, Mummy Pig and Daddy Pig as they enjoy a most unusual trip to the seaside, a super ski day, muddy puddle-jumping and more! Kids and parents alike will love all 12 fun-filled peppasodes! Get ready for adventure when "Peppa Pig Sun, Sea & Snow" arrives on DVD October 18th from Twentieth Century Fox Home Entertainment and Entertainment One.
Since we take the grandchildren a LOT down to our beach house with us, I love any children's DVD that features sunshine and sea related story lines within them. What's really cool about this DVD is that you get 12 fun-filled Peppa Pig episodes…not 3 or 4 like you typically find on children's DVDs. You get 12 episodes, so that's plenty of viewing entertainment for your young child or grandchild.
The 12 Included Episodes:
Sun, Sea and Snow
Snowy Mountain
Foggy Day
The Powercut
The Sleepover
Bedtime Story
Night Animals
Secrets
Pedro's Cough
The Secret Club
The Rainy Day Game
Mirrors
* This post contains affiliate links. If you make a purchase, we may or may not receive a small commission which helps to support this site. Thank you!
FREE Peppa Pig Printables:
Peppa Pig Coloring Sheet
Peppa Pig To and From Gift Tags
Peppa Pig Holiday Coloring Card
Peppa Pig Advent Counting Sheet
Peppa Pig Craft Projects on The Classy Chics blog
Peppa Pig is quality entertainment for young kids, especially children ages 1 to 5 years of age.

Disclaimer: Shelly received a complimentary product as featured in this blog post. No monetary compensation was received. Shelly's thoughts and words are 100% her own unbiased opinion on the company & products being featured today. The Two Classy Chics are not responsible for prize shipment or fulfillment. This post may contain affiliate links. If you purchase an item through an affiliate link, we may receive a small commission which helps to support this site.