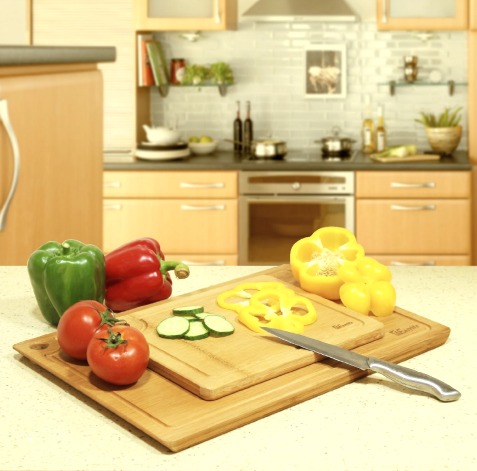 The holiday season is quickly approaching and it's time to get serious about our meal planning and the things that we'll need for the holiday season. That's right, do you have everything you need to prepare the perfect meal? What about the perfect serving pieces? If not, I've got something for you today!
The 1EasyLife 100% Natural Bamboo Cutting Board Set is perfect for all of you who need new cutting boards. Having the right cutting board can really make a difference when it comes to food prep. On top of that, these boards can also be used as serving trays! I love making up fruit, cheese & meat platters and I typically serve them on beautiful cutting boards like these.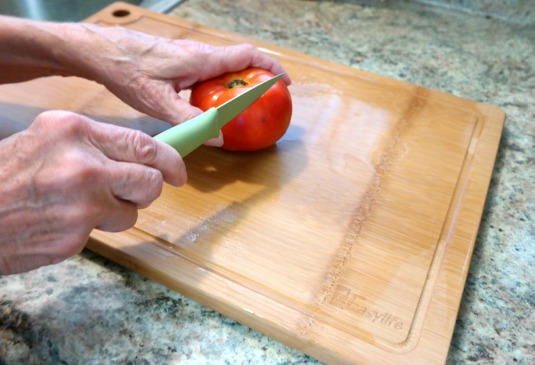 One of the things I love about this set is that they're 100% natural and they are made from a renewable resource, bamboo. Next, they are naturally formaldehyde free and no glue of any type was used in their construction. Plus, you get two of them! You can use one for chopping up veggies and the other one for when you're dealing with meats.
The largest of the two boards measures 18″ by 12″ by 3/4″ in size. The smaller one measures 11″ by 9″ by 3/4″. Each of the rectangle shaped boards has a hanging ring built into the upper corner and each board has a grooved channel running around the perimeter of the board to prevent liquids from spilling over. The backside of each board is completely flat.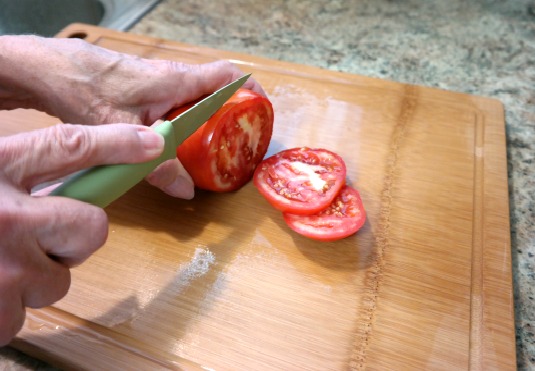 If you've never owned natural bamboo cutting boards before, they're really easy to take care of. You will want to hand wash them & towel dry after each use. Do not put them into the dishwasher. Next, you'll want to condition & moisturize your boards every once in awhile with vegetable oil or oil olive. Since pour the oil onto a clean cotton cloth and rub it into the surface of your board. This will help to keep your boards looking nice & will extend their life. Your boards will come with instructions on how to clean them & how to take care of them.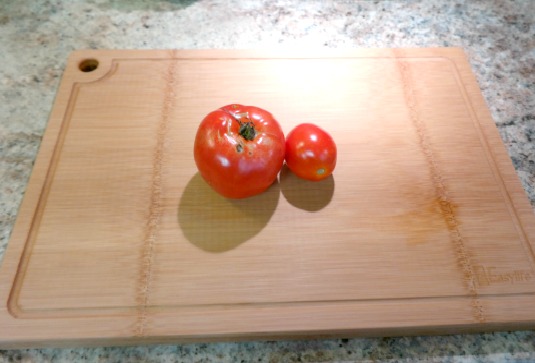 I've owned various sets of wooden & bamboo cutting boards over the past several years but none of them were as nice as this set. These are really substantial in their weight and size. In addition, I really love the simplicity of their design which means they will work with the decor of any kitchen!  You can use them for chopping & slicing and/or use them for serving your favorite foods. When it comes to storage, I have 2 hanging hooks inside one of my bottom kitchen cabinet doors and I hang them to keep them looking nice & within easy reach.
If your cutting boards are looking shabby or you need some new serving boards, this set would be perfect! On top of that, if you have a foodie on your holiday gift-giving list, they would make a great Christmas gift too!
* This post contains affiliate links. If you make a purchase, we may or may not receive a small commission which helps to support this site. Thank you!

Disclaimer: Shelly H. has personally reviewed the product listed above. Shelly has not received any monetary compensation for her review. She did receive a free product to try out so she could evaluate and use it for her review. Her thoughts & opinions in this review are unbiased & honest and your opinions may differ.