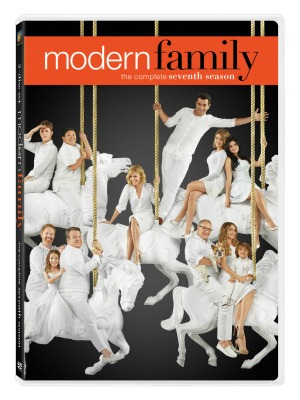 How many of you are fans of the hit television show Modern Family? If you're a big fan, the Complete 7th Season was released on DVD back on September 20th, 2016. That's right, you can now own the complete seventh season on DVD.
Synopsis: Enjoy a new chapter of love and laughter with Season 7 of Modern Family, winner of five Emmy® Awards for Outstanding Comedy Series. Quackery rules the roost when Phil adopts a trio of orphan ducklings and the rebellious Dunphy kids spread their wings. Meanwhile, Cam and Mitchell face financial hurdles and wild frat boys, Jay and Gloria "farm" out Joe's preschool education and Manny leaps into the dating game. But will the big question finally be answered: are Haley and Andy destined to be together? The laughs, lunacy and love have never been more alive.
A wonderfully large and blended family, the Pritchett-Dunphy-Tucker clan gives us an honest and often hilarious look into the sometimes warm, sometimes twisted, embrace of the modern family. Modern Family stars Ed O'Neill, Sofia Vergara, Julie Bowen, Ty Burrell, Jesse Tyler Ferguson, Eric Stonestreet, Sarah Hyland, Ariel Winter, Nolan Gould, Rico Rodriguez, Aubry Anderson-Emmons and Jeremy Maguire.
Our Thoughts: Modern Family is one of my husband's favorite shows on TV. He's been watching the show since season one and rarely misses an episode. If he does miss an original airing, trust me…he finds a way to go back and watch it within days by using our ON DEMAND cable features.
I admit, I'm not a big fan of this show, but that's only because I'm not really into comedies. With that said, I have watched it several times when he's had it on TV.  He loves this show for many reasons and here's what he has to say about it.
"This show is very funny from start to finish. Every episode is filled with humor that I can relate to and humor that makes me laugh. It's not slapstick comedy at all, it's comedy but it has great story lines within it and all of the actors/actresses do a good job at playing their particular parts. Unlike most of the other comedies on television right now, Modern Family has characters that everyone can relate to."
* This post contains affiliate links. If you make a purchase, we may or may not receive a small commission which helps to support this site. Thank you!

Disclaimer: Shelly H. has personally reviewed the product listed above. Shelly has not received any monetary compensation for her review. She did receive a free product to try out so she could evaluate and use it for her review. Her thoughts & opinions in this review are unbiased & honest and your opinions may differ.