Daniel Tiger's Neighborhood builds on Fred Rogers' pioneering PBS children's series Mister Rogers' Neighborhood. These engaging stories help children develop the important social & emotional skills necessary for school and for life. As preschoolers and their families follow Daniel's everyday adventures, they learn fun & practical strategies and skills for growing & learning.
My grandson is 14 months old and is now just starting to sit and watch preschool related television shows and videos. For this review we were sent 2 complimentary Daniel Tiger DVDs which I'm excited to tell you about today.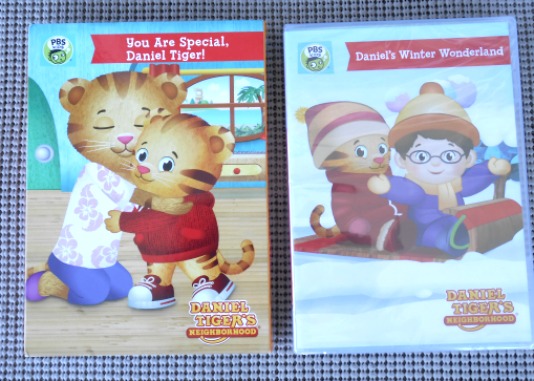 You Are Special Daniel Tiger! DVD features 8 different stories to keep your child entertained. On this DVD are: You are Special, Daniel is Special, No Red Sweater for Daniel, Teacher Harriet's New Hairdo, Same & Different, Tutu All The Time, Daniel Thinks of Others and Daniel Thinks of What Margaret Needs. Total running time is 110 minutes, so each episode/story is the proper length for a preschooler.
Daniel's Winter Wonderland DVD features 4 different stories on one DVD for a total running time of 60 minutes. On this DVD you'll find the following stories/episodes: A Snowy Day, Daniel's Winter Adventure, Neighborhood Nutcracker and Baking Mistakes.
My Thoughts: Over a period of 2 1/2 weeks I sat down with my 14 month old grandson and 7 year old granddaughter, so that we could watch several of these Daniel Tiger video episodes. I had never heard of Daniel Tiger until this review & feature, so I was super excited to be introduced to the series.
My 14 month old grandson is really starting to get into sitting still and watching short TV shows and videos. I was really surprised that he sat still for multiple episodes in a row and that they totally held his attention. Matter of fact, I caught him laughing & smiling several times and trust me, at 14 months of age, I really don't think he got the whole gist of what he was laughing about, but it sure was fun watching him do it. As time goes on and he ages a little bit, I'm sure he'll be able to comprehend the story lines & characters. My 7 year old granddaughter really enjoyed the episodes and it was her first time meeting these characters. As a grandmother, I really appreciate quality children's programming like this and would LOVE to see even more programming directed towards young kids that's educational & enriching. These videos are adorable and I'm happy to have them in my grandchildren's video collection.
* This post contains affiliate links. If you make a purchase, we may or may not receive a small commission which helps to support this site. Thank you!
Giveaway: One lucky winner is going to win BOTH of these DVDs. The winner will get (1) Daniel's Winter Wonderland DVD and (1) You Are Special Daniel Tiger DVD.
Giveaway Details: This giveaway is open to residents of the US ONLY age 18 and over. Please read our Terms of Service & Disclaimer Policy before entering. This giveaway will close on November 4th, 2016 at 11:59 pm EST time. No purchase necessary to enter or win.

Disclaimer: Shelly received a complimentary product as featured in this blog post. No monetary compensation was received. Shelly's thoughts and words are 100% her own unbiased opinion on the company & products being featured today. The Two Classy Chics are not responsible for prize shipment or fulfillment. This post may contain affiliate links. If you purchase an item through an affiliate link, we may receive a small commission which helps to support this site.