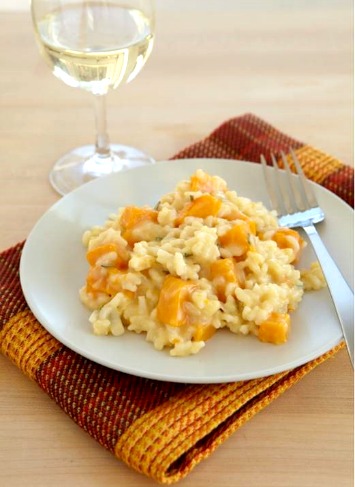 As we are about to head into the midst of holiday season, it's time to start peeling the potatoes, glazing the ham and pouring the wine! This year for the holidays, break the mold from the stereotypical fruitcake, candy yams and cranberry sauce and try IMUSA's recipe for Butternut Squash Risotto. There is no better place for one of fall's staple ingredients, squash, to be other than mixed in with creamy risotto.
Butternut Squash Risotto Recipe
2 tablespoons olive oil
2 large chopped onions
2 cups diced butternut squash
½ cup white wine
2 ½ cups vegetable stock
1 cup Arborio rice or short grain rice
4 chopped sage leaves
1 cup grated parmesan cheese
Using the IMUSA pressure cooker, soften onions with olive oil under high heat, for about one minute. Add butternut squash and continue cooking for another minute.
Mix in rice and cook for one minute. Pour in the white wine and allow most of the liquid to evaporate while mixing, about 2 minutes.
Add the vegetable stock and sage leaves and mix gently. Allow it to come to a boil and cover the lid. Once the IMUSA pressure cooker builds enough pressure (the orange pressure regulator tab pops up), lower the heat to medium and cook for seven minutes.
Turn off the heat and using a wooden spatula, gently press on the pressure control valve (on the center of the lid) to allow all of the pressure to escape until the orange pressure regulator goes back down.
Open the lid and add parmesan cheese and mix well. Allow to rest for 5 minutes before serving.