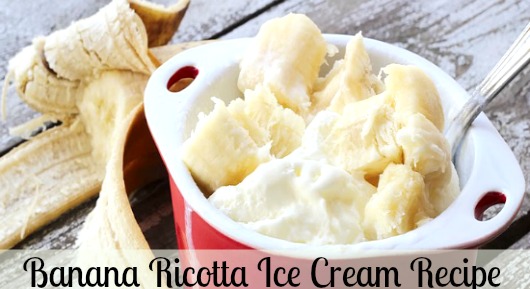 Ice cream. It's one of my favorite foods and I'm not afraid to admit. If I could eat it every day, I probably would. Let's face it though, it can be very  fattening and at times, unhealthy for us to consume. Well, that is until now!
As a big fan of ice cream and a big fan of bananas, I was really excited to see this guest post recipe in the email box this week. It's courtesy of Executive Chef, Anthony Stewart at Pritikin Longevity Center + Spa. It will make approximately 4 delicious servings! I bet this would be super good with my daughter's homemade dark hot fudge sauce drizzles over the top. YUM!
Banana Ricotta Ice Cream Recipe
1 pound very ripe bananas (peeled, vacuum sealed, and frozen)
1 cup fat-free ricotta cheese
2 tablespoons orange juice
1 teaspoon orange zest
¼ teaspoon nutmeg, ground
1 teaspoon vanilla extract
Directions: Remove bananas from freezer and let sit for 5 minutes (until they begin to defrost around the edges). Place ricotta cheese in a food processor and pulse. Chop the bananas and add to the food processor along with all remaining ingredients. Puree until smooth and creamy. Scoop mixture into a plastic bowl and cover with food-grade plastic wrap, making sure the plastic wrap touches the top of the mixture. Place in the freezer for 15 to 20 minutes. Remove and serve immediately. Enjoy!