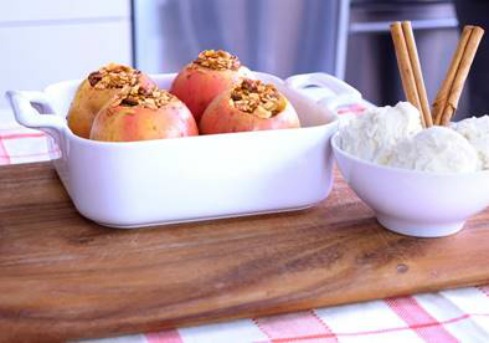 Here in the northeast it's apple season! Every autumn I spend time with my daughter Shelly and we will cook down apples to make homemade applesauce and can our own apple pie filling.  We also like to make up a big batch of apple dumplings and we'll eat some now and freeze some for winter. Apples, such a versatile fruit and it's healthy too.
The recipe we are sharing with you today is courtesy of Viki's Granola. Knowing my children and grandchildren, I think they would drizzle some hot chocolate fudge sauce on the top. They look delicious and we'll be making this recipe soon.
Baked Granola Stuffed Apples Recipe
3 tablespoons cold butter, diced
3 tablespoon dark brown sugar
½ teaspoon brown sugar
Pinch of salt
4 apples, washed and dried
1 cup of Viki's Granola Apple Cinnamon
Vanilla ice cream
Preheat oven to 375°. In a bowl combine butter, brown sugar, cinnamon and salt. Take good care to mash everything together with a fork. Use a melon baller, apple corer or paring knife to remove apple cores; don't go all the way through. Place apples in a small baking dish and fill with butter mixture and bake for 30-40 minutes. To serve top with Viki's Apple Cinnamon Granola and a scoop of ice cream.
* This post contains affiliate links. If you make a purchase, we may or may not receive a small commission which helps to support this site. Thank you!