** 2016 Holiday Gift Guide Feature **
Summer is officially over, but I live in sunny California, so I'm always making sure my feet look good enough to throw on a pair of flip flops or sandals at a moment's notice. Pedicures may happen less frequently for me in the fall, so I need to make sure that I take care of my feet. Summer can definitely take its toll on your tootsies, so it's important to keep your feet looking and feeling great with products that hydrate, pamper and comfort dry feet. I recently tried out a trio of excellent products from Aromafloria that were created specifically for the feet.
Aromafloria has been making finely crafted, artisanal quality body care and aromatherapy products for more than three decades. Each unique formula is powered by a custom blend of organic essential oils, therapeutic herbs, exotic botanical extracts, vitamins and minerals to deliver optimal health benefits.
In addition, all of the company's products are manufactured in a USDA Certified Organic facility that is 100% wind powered.
I received three products from the Aromafloria For Feet's Sake line of products to try out on my weathered feet and let me tell you, what a difference they have made. I've been using the For Feet's Sake Intense Repair Spa Foot Butter, Double Action Spa Foot Scrub and Perfectly Soft Spa Foot Soak. All three products work well and use Tea Tree and Mint….so refreshing and energizing! Here are my thoughts on these three products: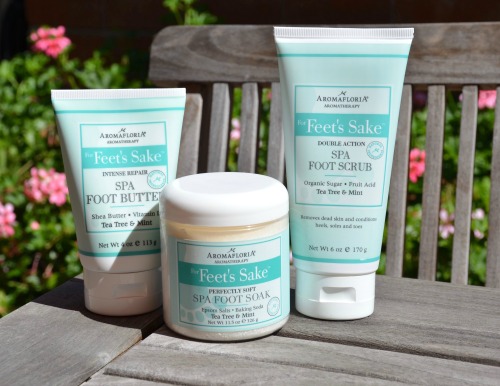 • For Feet's Sake Perfectly Soft Foot Soak – I love to soak my feet, especially after I've been at a tradeshow or conference where I'm on my feet a lot. I often say, "my dogs are barking" and have tried all kinds of soaks and creams to soothe my fatigued feet. This is the perfect treat for your feet for sure. This foot soak is made from Epsom salts, baking soda and pure essential oils of Australian tea tree, American spearmint and peppermint and instantly revives tired, aching feet. In addition, the soak cleanses and hydrates your feet and improves circulation, purifies, protects and softens. This is an especially great product for getting rid of calluses and reducing swelling in your feet. It is safe for using with a spa tubs and with the tea tree and mint, your feet will be fresh, clean, soothed and smelling great.
• For Feet's Sake Double Action Spa Foot Scrub – This is a perfect scrub to use after a good soak. It removes dead skin and conditions heels, soles and toes. All you have to do is gently massage the scrub into your feet and it will gently exfoliate, moisturize and condition. This product is also ideal if you use self-tanners. It can help even out your skin tone and reduce rough elbows and knees before you apply the tanner. This foot scrub uses organic sugar, fruit acid and tea tree and mint combined together to soften even the toughest calluses. This product naturally exfoliates, loosens and removes dead skin cells leaving your feet unbelievably soft. This scrub also contains Arnica, which works to relieve fatigue and help soothe sore feet. It is also an anti-inflammatory, analgesic, and an antiseptic agent. Use this scrub in a circular motion on feet and legs for about two minutes and you'll be feeling soothed, soft and relaxed.
• For Feet's Sake Intense Repair Spa Foot Butter – This foot butter instantly moisturizes and hydrates dry, cracked feet. My husband has been using this one to help with his extremely dry feet and he absolutely loves it—the smell, the way and feels and how just a little bit goes a very long way. He's been massaging this into his feet every night before bed for about 3 minutes. You will feel and see the difference (like he has). This foot butter contains Shea Butter, which helps replenish dry and cracked skin. It also gives your feet a dose of Vitamin E, which is an all-weather moisturizer and works to prevent (and replenish) dry feet and cracked heels. As with the other two products, this one also contains tea tree and mint to soothe the skin and help reduce redness and swelling. Arnica is also incorporated into this product to help revive those tired, sore feet that we all can get.
All three of these products from the For Feet's Sake line are:
• 100% Vegan
• Not tested on animals
• Safe for the Planet
• Biodegradable
• Sulfate Free
• Paraben Free
• Phthalate Free
• Preservative Free
• Free of Artificial Colors
• Synthetic Fragrance Free
Giveaway: One lucky winner will receive the same three products that I tried out and will be sandal-ready! Also, don't forget too that these products would make a great holiday gift for someone—everyone can use a little extra care for their feet. Thank you Aromafloria.
Giveaway Details: This giveaway is open to US Residents age 18 or over. You must complete the Mandatory Entry to be eligible. This giveaway will close on November 1st, 2016  at 11:59pm EST Time. No purchase required to enter or win. Please read our rules & guidelines before entering this giveaway (located at the top of our homepage).

Disclaimer: Kristine has personally reviewed the product listed above. She has not received any monetary compensation for her review but did receive a free product to try out so she could evaluate and use it for her review. Her thoughts & opinions in this review are unbiased & honest and your opinions may differ. Please read our official rules for giveaways before entering. Two Classy Chics is not responsible for shipment of this product