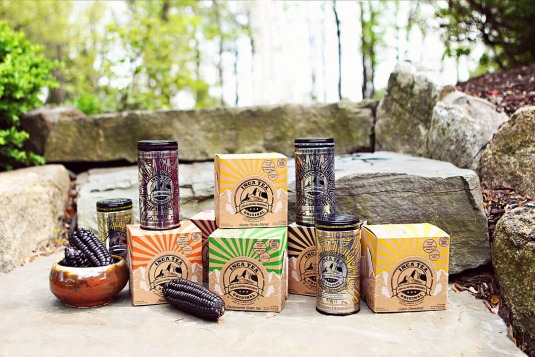 ** 2016 Holiday Gift Guide Feature **
The story behind Inca Tea is a good one. Founder and "TeaEO" Ryan Floria was hiking in the Peruvian mountains with some college friends. Their guide served them an energizing tea made from purple corn and apples, which helped get them through their exhausting travels. After returning home to Cleveland, Ryan established Inca Tea, making several blends of tea incorporating the purple corn used by the Inca for hundreds of years.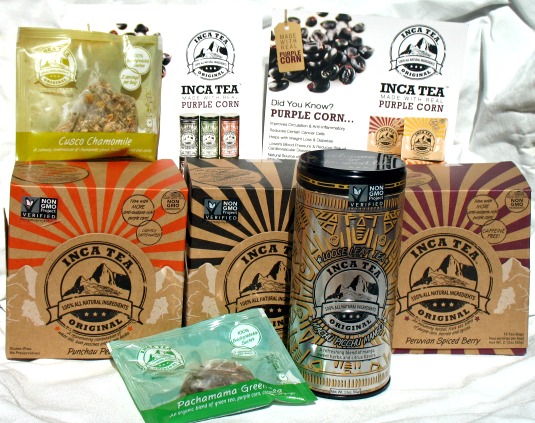 The blends include a nice variety of flavors:
• Peruvian Spiced Berry (the original Inca Tea blend) is an herbal fruit tea blend of purple corn, berries, and spices
• Punchau Peach, or Pick Me Up Peach, is a white tea, peach, purple corn, and sweet herb blend
• Tawantin Black Tea is a combination of three types of black tea leaves and purple corn
• Machu Picchu Mango, or Mountain of Mango, is a blend of mango, purple corn, sweet herbs, and citrus
• Cusco Chamomile blends chamomile, citrus fruits, hibiscus, and vanilla
• Pachamama Green Tea is a green tea, purple corn, coconut, and ginger blend
All Inca Teas are hand blended, 100% natural, vegan, gluten-free, non-GMO, and grown without toxic pesticides. They contain no sugar or artificial flavors or preservatives. Most of the blends contain purple corn, which just might be the newest superfood, with many positive health benefits to its credit. All blends are available as loose tea or in tea bags.
Inca Tea goes beyond just making good, healthful tea. It's Fair Trade. The tea bag sachets and overwraps are completely biodegradable. The boxes are made from 100% post-consumer recycled materials printed with soy inks, and their clever design features a handy slot for dispensing the tea bags.
You can buy Inca Tea directly at their website, where they offer a discounted monthly tea subscription. Or you can use their store locator to find a retailer near you.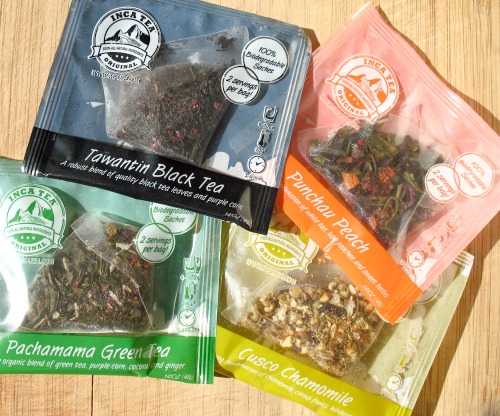 My Impressions: I drink tea all the time. Really. I pour my first cup before my eyes are barely open in the morning, and I take my last sip before I turn out the lights and head for bed. So when I tell you that This Is Good Tea, I'm talking from a true tea-drinker's perspective.
My usual tea of choice is caffeinated black tea, so the first Inca Tea blend I tried was the Tawantin Black Tea, a strong, dark tea with a good but slightly unusual flavor. Herbal teas often leave me unsatisfied, so I was pleasantly surprised at the full-bodied nature of the herbal Inca Teas, especially the Machu Picchu Mango. My favorite, though, is the Punchau Peach, which is the best of both worlds; it's lightly caffeinated with a rich, fruity, herbal flavor. Inca Teas' packaging promises two servings from each tea bag, a claim that turns out to be true—another pleasant surprise.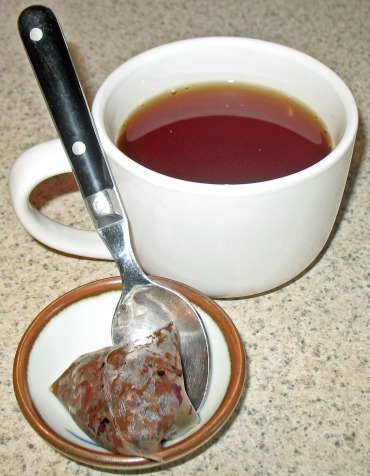 Giveaway: One lucky winner is going to win a prize package from Inca Tea that includes one box of each of their six tea blends, a $54 value! You're gonna love it.
Giveaway Details: This giveaway is open to residents of the US ONLY age 18 and over. Please read our Terms of Service & Disclaimer Policy before entering. This giveaway will close on October 31st, 2016 at 11:59 pm EST time. No purchase necessary to enter or win.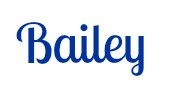 Disclaimer: A. Bailey received a complimentary product for review purposes & feature on The Classy Chics blog. No monetary compensation was received. A. Bailey's thoughts, opinions and words are 100% her own. Your thoughts may differ. Please read the blog's terms of service policy before entering any giveaways. The Classy Chics are NOT responsible for prize fulfillment or shipping of any items won from this blog.