Can you believe that summer is almost over? It seems like a few weeks ago I was busy getting our pool opened up for the season and my veggies into the garden. In all actuality, all of those things occurred in the second week of May and now we are already five days into September. Sigh…where did summer go?
In honor of "Labor Day" I've got a great cocktail recipe to share with all of you courtesy of the generous folks over at Freixenet.
Rosé makes any day a celebration, so sparkling rosé sangria is sure to make your end-of-summer beach bash or pool party extra special! Perfect for a large group since you can make it by the pitcher, this light and refreshing sangria recipe gives you the perfect excuse to sip.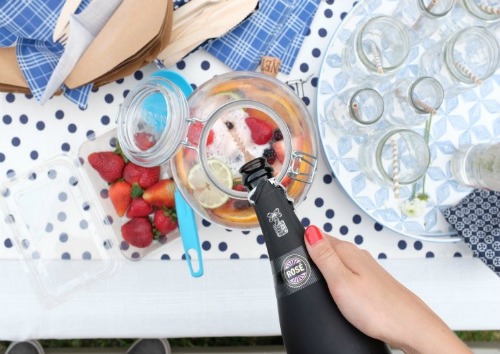 Rosé Sangria Cocktail Recipe
3 cups Freixenet Cordon Negro Rosé
3 oz triple sec
3 oz brandy
1.5 cup fresh pink grapefruit juice
1 lemon
1 orange
Mix triple sec and brandy and add fresh pink grapefruit juice. Cut 1 lemon, 1 orange, remaining grapefruit and a melon of your choice into thin wedges. Refrigerate overnight. When ready to serve, add Freixenet Cordon Negro Rosé.
Few things shout out summer quite like the refreshing taste of watermelon. It's the perfect fruit to eat by the pool as summer winds down so why not try experimenting with in your cocktails. Cool down with Freixenet's Sweet Sparkling Watermelon, featuring Freixenet Sweet Cuvée Cava.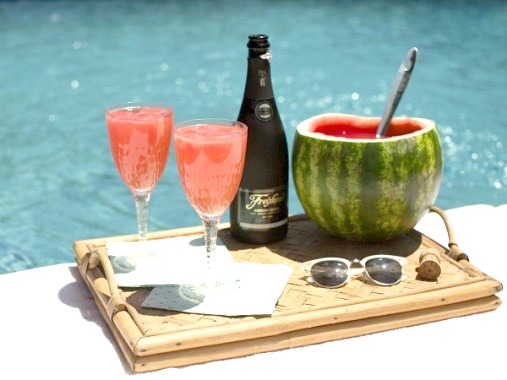 Sweet Sparkling Watermelon Cocktail Recipe
1 watermelon
1 bottle of Freixenet Sweet Cuvée Cava
Cut 1/4th off the top off a seedless watermelon. Scoop out the fruit and purée. Put 2 tbsp in a wine glass, and top off with Freixenet Sweet Cuvée Cava. Pour the remaining purée back in the hollow watermelon to enjoy throughout the day.
* This post contains affiliate links. If you make a purchase, we may or may not receive a small commission which helps to support this site. Thank you!