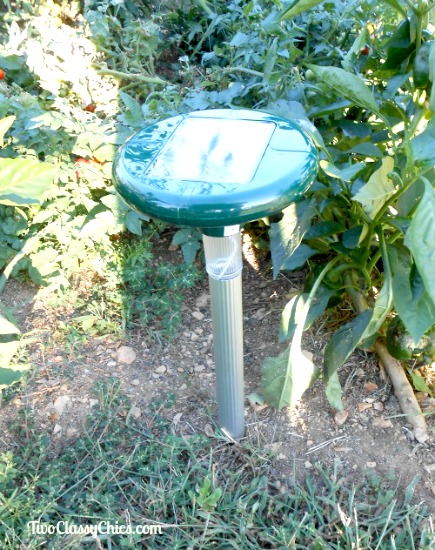 Like most people, I'm not fond of snakes and I'm certainly not fond of having them roaming around in my backyard with 2 grandchildren around. On top of that, we've been having severe issues with groundhogs ripping up our property, destroying our vegetable & flower gardens and digging tunnels & holes underneath our shed. As you can imagine, the past 3 months have been a nightmare with all of these unwanted pests calling my yard their home.
Over on Amazon I found the OUTXPRO Solar Energy Snake Repeller Powerful Ultrasonic Gopher Mole Mouse Rodent Voles Rat Yard Lawn Farm Garden Pest Repellent Device w LED Light
and had the opportunity to review it. I got the unit in late August and hubby installed it right inside our garden. During the daytime hours it runs off the sun's energy and at night…it runs off the rechargeable battery, that is also charged up by the power of the sun.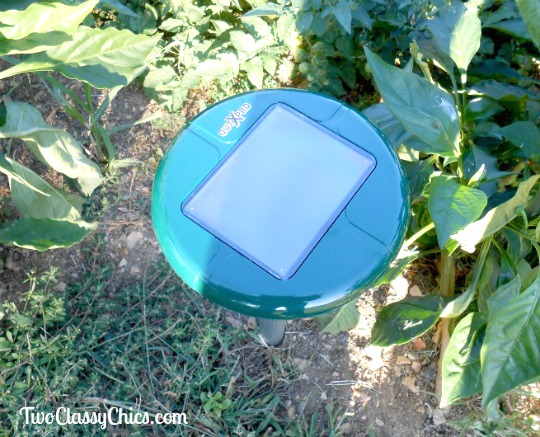 It transmits a pulse every 40-50 seconds and covers an area of approximately 625 square meters. The repeller transmits its signal in all directions for approximately 15 meters, so you can space them 30 meters apart in your high risk areas. We only have one and found it to be effective for protecting our one small garden that the unwanted pests were tearing up.
Once it arrived my husband read over the brief info that is included with it, had it assembled in 20 seconds and three minutes later installed near our veggie garden. For the past 3 months we have found numerous garter snakes, possums and groundhogs in our garden and they were ripping it up. Even with a small fence, they were getting in because the groundhogs tunnel underneath it.
The unit is weatherproof, but they do recommend that you remove it under extreme weather conditions such as hail, flooding, snow and ice. We plan on taking our's out once winter arrives and storing it for next gardening season.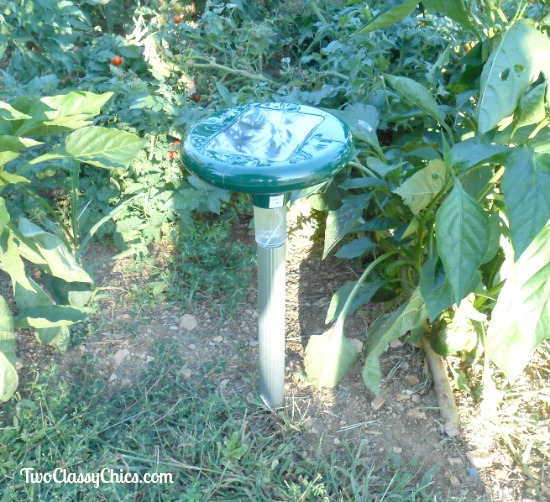 We've had it for a month now and I can HONESTLY tell you that it's working! We have not seen one single snake in our vegetable garden since my husband put the solar powered snake repeller in there. Next, we have continued to see groundhogs every day…but, they are now staying out of the garden and just roaming around our yard being pests in other areas, instead of destroying my tomatoes, cucumbers and peppers. YAY!
While this is a temporary solution to a big problem, our township has agreed that come next spring & early summer, the wildlife department will be out to trap these groundhogs and release them elsewhere. We have an over-abundance of them on our property because there are no natural predators to take them out & they're causing us immense property damage.
For now, I'm extremely happy to have this in our garden area to help keep out the unwanted pests! We got it from Amazon and for the price, it's really well worth it if you're having any snake or outdoor pest problems and it won't affect dogs or cats.
* This post contains affiliate links. If you make a purchase, we may or may not receive a small commission which helps to support this site. Thank you!
Disclosure: Shelly received this product for FREE or at a discount, so that she could share her honest opinion with other potential shoppers. Shelly did NOT receive any monetary compensation. Your opinion may differ. This post contains affiliate links and if you make a purchase through the link, we may or may not receive a small commission which helps to support this site.