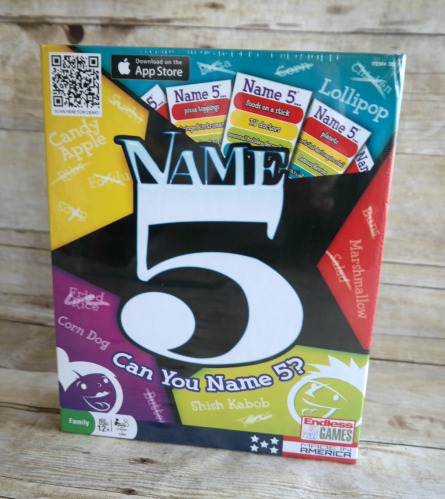 If you've been following this blog for the past 6 years you'll already know that my family regularly gets together for family game nights. We've been hosting regular game nights for the past 25 years and LOVE to get together for an afternoon or evening of fun!
Recently we were introduced to 2 new games from Endless Games for our game nights and today, I'm going to introduce all of you to one of them. In a few weeks, I'll highlight the second game that we received.
We received the Name 5 Game and it's FAMILY rated for ages 12 and over. You'll need at least 2+ players or 2 teams/groups to play the game.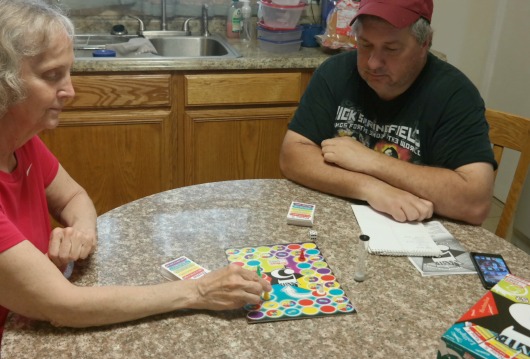 Contents Included:
144 Name 5 Cards
1 Game Board
1 Die
4 Pawns (Playing Pieces)
30 Second Timer
Instructions
Game Synopsis: Can you name 5 things that could make a person sneeze? How about 5 TV dads? 5 video games? Fruits or vegetables beging with "a"? Name 5 is the outrageous party game that asks the easy questions you know the answers to. Sure, you know 1 movie starring America's sweetheart or a certain Hollywood heartthrob, maybe even 2…but can you Name 5??? The object of the game is to be the first person or the first team to reach the Name 5 space to win the game.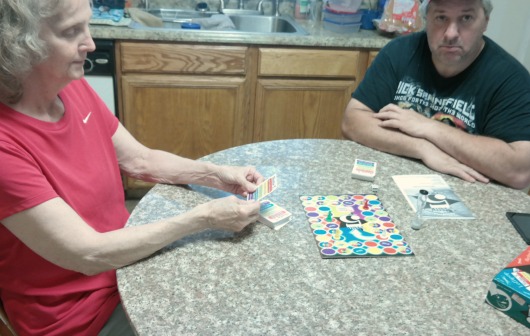 Our Thoughts: This game is really easy-to-play and a whole lot of fun! Teams or persons will take turns playing by rolling the die, moving your piece on the board and then reading the card that corresponds to the color of the space that you landed on. Once the card has been read, the timer begins. You'll have 30 seconds to answer the challenge. If your successful in naming all 5, you'll roll the die again and take another turn. If your unsuccessful, it's the next person or teams turn. There are other basic instructions, but this is the gist of the game.
My family has sat down to play this game 3 times since we've received it. Even my 7 year old grand daughter can play if she's given some of the easier question cards to answer and does really well at her age if she's on a team with adult players. So, in my opinion, younger kids can play as long as adults are on the team too.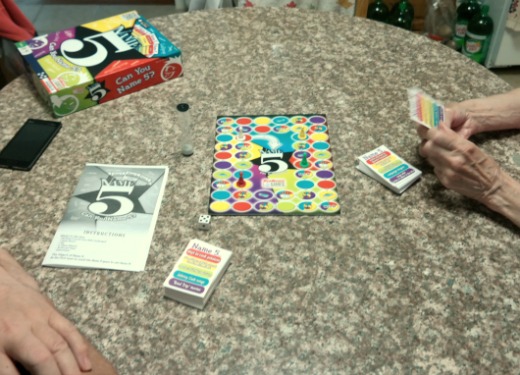 The game gets really fun when you land on some of the special spaces on the game board: All Play, Flip Flop, Wild and Double Down. With these spaces, just when you think you're winning the game…you could actually lose! These special spaces really add fun & excitement to the game.
Overall, we LOVE this board game and think it's a lot of fun to play. It's great for Family Game Night and/or any fun parties that you may be hosting. We rate it an 8 1/2 out of 10 on our entertainment rating scale.
Want to try out the game yourself? You can visit the Apple App Store for the Name 5 App which is now available! You can learn more about the Name 5 board game and other games offered by Endless Games by visiting the company's website online.
* This post contains affiliate links. If you make a purchase, we may or may not receive a small commission which helps to support this site. Thank you!

Disclaimer: Shelly H. received a complimentary product to feature & review on this blog. No monetary compensation was received. Shelly's thoughts, opinions and words about the product are 100% her own, unbiased opinion. We are not responsible for injury or mis-use of any products won from the The Classy Chics Blog. Please read our Terms of Service & Disclaimer Policy before entering our giveaways. Thanks!