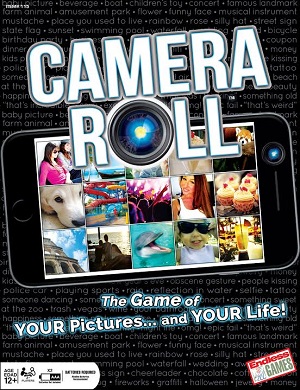 How many of you like to get together with your friends and have a fun game night? What about getting together with adult family members? If you answered yes to either of these questions, I've got a HOT new game to tell you about today!
Let me introduce you to Camera Roll by the great folks over at Endless Games. This game is for people ages 12 and older and you'll need 3 or more players to play it. In addition, you'll need to pick up 2 AAA batteries for the game.
Game Synopsis: Camera Roll is the game of your pictures, your life! You have a ton of photos on your phone! Do you have a snapshot from a party? How about a picture from your vacation? You'll have 30 seconds to find something that is asked on the playing card in your image library on your cellphone. Can you find a photo in less than 30 seconds?  Camera Roll is your reason to show off that sunset photo you took 6 months ago. Just find a photo that connects to the category card. Everyone who finds a photo gets a point! Earn extra points for being first or getting your photo judges as the best.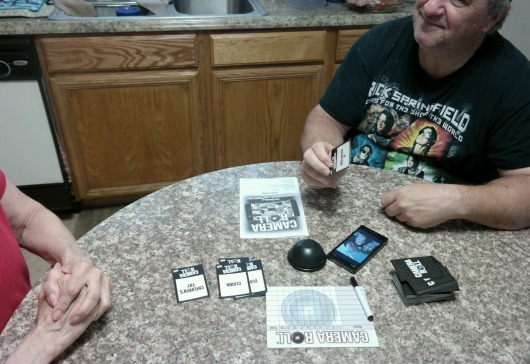 Game Contents: 288 Camera Roll category cards, 30-second timer (batteries required), score card, dry-erase marker and instructions.
Our Thoughts: I have to admit, I like this game…but it's not in my top 10 of favorite games to play. Why you might ask? Well, we have to wait until we have enough adults around with photos on their cellphone for us to play it. During our family game nights, we tend to play games that most kids and adults can play together. In our family, kids typically don't get cellphones until their 16, so that leaves them out.  With that said, I do think it's a great game to play & have on hand if you do a lot of entertaining & host parties with mainly older teenagers or adults.
The game is fairly easy to play and is a lot of fun to play, but you'll need to have people playing it that have a lot of different photographs on their phones. You can play the game a variety of different ways, including a few ways we came up with on our own or follow the instructions that come with the game. You can award points to the person who found a photo the quickest or who had the best photo that was shown.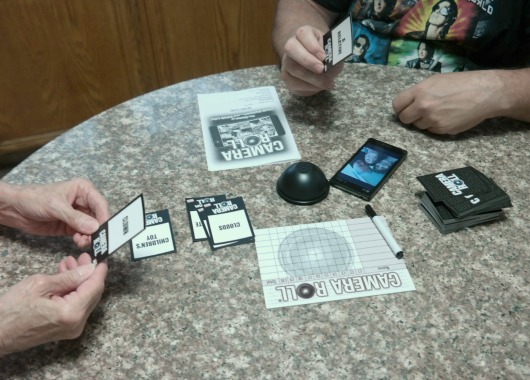 As photos are presented, other players can issue a challenge if they feel a photo inadequately represents the category. In the event of a challenge, the Judge will make the final decision on whether to award points or not. We found that this "rule" really added some fun to the game because we enjoyed watching people debate why their photo was the best or why their photo qualifies for the challenge.
The categories on the playing cards are very vast! There are easier ones and then harder ones, which makes the game challenging at times. The card can ask for a specific type of photo or a photo that is more suggestive in the player's mind.
Overall, we are ranking this game a 6 out of 10 on our entertainment rating scale. Like I said, if you have a lot of older teenagers in the house or you regularly host parties with adults…I think this game is great. It's more of a party game than a game for family game night.
* This post contains affiliate links. If you make a purchase, we may or may not receive a small commission which helps to support this site. Thank you!

Disclaimer: Shelly H. received a complimentary product to feature & review on this blog. No monetary compensation was received. Shelly's thoughts, opinions and words about the product are 100% her own, unbiased opinion. We are not responsible for injury or mis-use of any products won from the The Classy Chics Blog. Please read our Terms of Service & Disclaimer Policy before entering our giveaways. Thanks!