I'm a hoarder of hair products. Not extreme hoarding like the TV show, but a mild hoarding that my husband questions me about often. Why do I have more than one shampoo? Why do I need three kinds of hairspray? You know, that kind of hoarding.
Here's the thing. I'm basically always searching for that PERFECT hair product. Sometimes I come across a winner and other times, I end up with a collection of "duds," which basically means the hair products sit around and get no love. Imagine my excitement when I was told I was getting some CHI Tea Tree Oil Collection hair products for review. First, I'm obsessed with tea tree oil—I love it. It's amazing. Then, I get FIVE hair products to try out!? It's like Christmas morning! The really good news? These products are the bomb. Let me tell you a bit more about them.
CHI Tea Tree Oil Collection is a haircare line enriched with both tea tree oil and peppermint oil for ultimate hair and scalp rejuvenation. The lavish line includes CHI Tea Tree Oil Shampoo, CHI Tea Tree Oil Conditioner, CHI Tea Tree Oil Blow Dry Primer Lotion, CHI Tea Tree Oil Serum, and CHI Tea Tree Oil Soothing Scalp Spray. These products give your hair an invigorating dose of nutrients and moisture and with the wonderful combination of tea tree oil, peppermint oil, silk, and chamomile all working together, your hair and scalp will feel replenished and fresh. I enjoyed using them all, but here's a bit of detail on each one.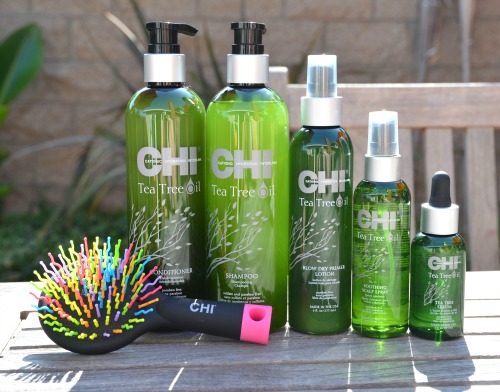 • CHI Tea Tree Oil Shampoo – this refreshing shampoo gently cleanses and rids hair and scalp of impurities while balancing oils and strengthening the hair. Tea Tree Oil is a natural antioxidant that unclogs pores and removes build up while replenishing moisture to soothe, calm and condition the scalp. It smells fantastic, it is invigorating and everyone in the family can use it.
• CHI Tea Tree Oil Conditioner – this product is a lightweight conditioner that moisturizes and nourishes your hair and leaves it feeling pure and clean. Like the shampoo, the conditioner can be used by anyone and has a refreshing and awakening sensation that smells great. This soothing conditioner helps normalize and balance scalp oils and helps to relieve dry scalp.
• CHI Tea Tree Oil Blow Dry Primer Lotion – this lotion preps your hair and scalp for thermal styling, which means it protects your hair from the crazy hot and damaging blow dyer. The primer lotion is a lightweight moisturizing primer that not only protects your hair from thermal damage, but also from environmental elements. It contains essential oils to nourish and protect the hair and scalp. I really love this product and see a difference in the smoothness of my hair after drying it. My hair gets a lot of one on one time with my dryer and I love the protection I get from this lotion. Simply apply it to your palms and distribute evenly through damp hair.
• CHI Tea Tree Oil Serum – this serum is a fast absorbing and protects hair with its blend of Tea Tree and Peppermint Oils that moisturize and nourish the hair and scalp with essential nutrients for silky, smooth, healthy looking hair while also providing natural UV and thermal protection. This product can be applied to wet or dry hair and is ideal for those of us that plan to spend a lot of time outdoors this summer. Many times we forget that it's important to protect our hair as well as our skin. I like to put it on after styling to control the flyaway hairs and smooth my hair. The serum also removes impurities and excess build up and helps to balance scalp oils.
• CHI Tea Tree Oil Soothing Scalp Spray – this is a great spray to have on hand if you experience an itchy, irritated or dry scalp. It uses natural oils to promote a healthier scalp and with tea tree oil being a natural antioxidant, it unclogs pores and removes build up while replenishing and soothing the scalp. Simply spray the product onto the scalp where needed and no not rinse. Style as you normally would and see the dryness disappear.
The CHI Tea Tree haircare line offers all of these incredible and gentle solutions online at www.Loxabeauty.com. Prices start at $15.

Disclaimer: Kristine has personally reviewed the product listed above. She has not received any monetary compensation for her review, but did receive a free product to try out so she could evaluate and use it for her review. Her thoughts & opinions in this review are unbiased & honest and your opinions may differ.