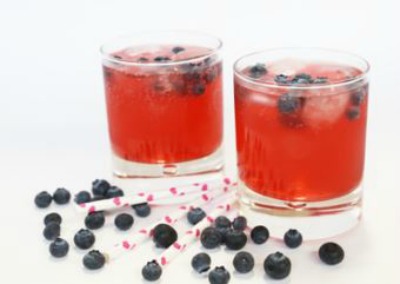 When it comes to drinking cocktails, I'm all about the fruity flavors! While I enjoy pomegranates, I think they taste 100% better when they are mixed with another fruity flavor…like blueberries or cranberries. What's really cool about today's cocktail recipe is that you don't have to run out and buy fresh pomegranates or blueberries…you simply use a bottle of Sparkling ICE to give this cocktail it's fruity flavor.
Unfamiliar with Sparkling Ice? It's a great tasting, lightly carbonated, zero-calorie beverage which combines sparkling water, fruit juice, vitamins, antioxidants, and BOLD natural flavors. You can learn more about the product by visiting their online website. While you're there, grab some of their delicious recipes too.
Pomegranate Blueberry Cocktail Recipe
1 1/2 cups Sparkling Ice Pomegranate Blueberry
1 cup pear nectar
1/4 cup orange-flavored liqueur, such as Grand Marnier
1 bottle (750 ml) Champagne
In a large pitcher, combine Sparkling Ice Pomegranate Blueberry, pear nectar, and orange-flavored liqueur. Slowly add Champagne. Serve over ice. Garnish with mint and blueberries. Serve immediately.
You can find additional cocktail recipes right here on The Classy Chics blog.
* This post contains affiliate links. If you make a purchase, we may or may not receive a small commission which helps to support this site. Thank you!