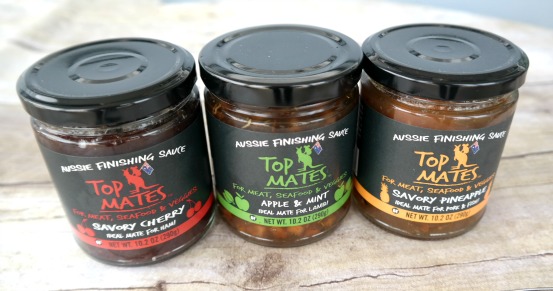 My husband and I both enjoy cooking and spending time in the kitchen together. With that said, we both lead very busy lives and don't have 4 hours a day to be whipping up everything from scratch.
Recently we were introduced to several award-winning finishing sauces from Australia called Top Mates. These sauces are now available to U.S. consumers and make a great gift for any foodie on your holiday list!
Each sauce is artisan-crafted and slow-cooked, yielding powerful, full-bodied flavors never seen before right out of a jar. You can use them as a condiment, a marinade or during cooking. They are very versatile in their use and provide very unique flavor combinations.
For this review we received 3 complimentary jars of Top Mates to try out for all of you.
– Savory Cherry
– Savory Pineapple
– Apple and Mint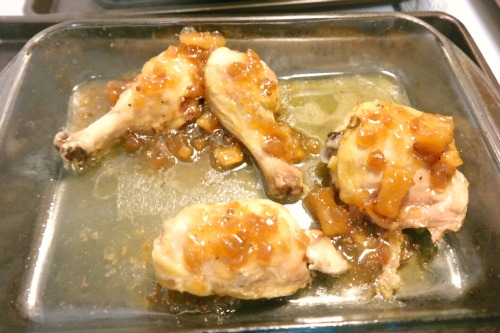 My husband is a BIG chicken eater. He loves chicken and we make it all kinds of different ways, so that it never gets boring. I would estimate that he will sit down and eat chicken at least 3 times every week.  Two weeks ago he baked some check and marinaded it in the Savory Pineapple Finishing Sauce and raved and raved about it. We marinaded our chicken in the sauce for about 2 hours and then just popped it all into the oven and baked for 45 minutes. Very flavorful and delicious!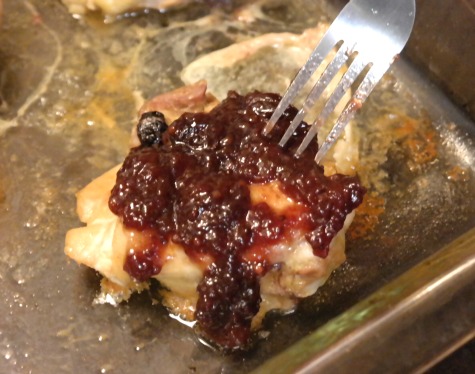 Last week my husband prepared another batch of chicken and this time around he used the Top Mates Savory Cherry Finishing Sauce. Again, he just marinaded the chicken in the sauce and baked it in the oven. Just like the first finishing sauce, this one is jam-packed with flavor! We had never had cherry flavored chicken before and oh my gosh…it's delicious!
We received the Top Mates Apple and Mint Finishing Sauce which we haven't used yet. We plan on picking up some fish from the market and using that sauce with the fish when we have company over for dinner next week. I bet it's just as yummy as the first two!
You can buy Top Mates Finishing Sauces directly online. They make a great gift for the foodie (or) for yourself, I highly recommend you check out the Top Mates Club Package for that.
Reader's Discount: Exclusive coupon code for TwoClassyChics blog readers! Get 10% off your first purchase by using coupon code M4Y3A during the checkout process. This coupon code expires 1-31-2016.
Giveaway: One lucky winner is going to win 3 jars of Top Mates Finishing Sauces! Value $36.00. Winner can select the 3 flavors that they would like to receive. Yay!
Giveaway Details: This giveaway is open to residents of the US ONLY age 18 and over. Please read our Terms of Service & Disclaimer Policy before entering. This giveaway will close on January 4th, 2016 at 11:59 pm EST time. No purchase necessary to enter or win.

Disclaimer: Shelly H. has personally reviewed the product listed above. Shelly has not received any monetary compensation for her review. Shelly did receive a free product to try out so she could evaluate and use it for her review. Her thoughts & opinions in this review are unbiased & honest and your opinions may differ. Two Classy Chics is not responsible for delivery of any giveaway items won from this blog. We are not responsible for injury or mis-use of any products won from the Two Classy Chics Blog. Please read our Terms of Service & Disclaimer Policy before entering our giveaways. Thanks!