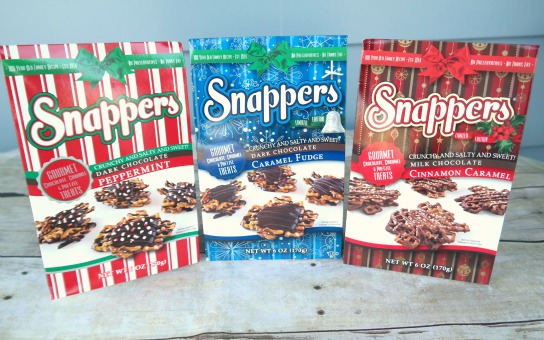 How many of you love chocolate turtle confections? How about chocolate and caramel dipped pretzels? If you said yes to either of those questions you'll love the delicious treats by Snappers!
Before this review…I had never head of them and since receiving 3 complimentary packages of them for this review, I've totally fallen in-love with these delicious chocolate, caramel and pretzel treats!
Snappers just released three limited edition holiday flavors:
– Milk Chocolate Cinnamon Caramel
– Dark Chocolate Caramel Fudge
– Dark Chocolate Peppermint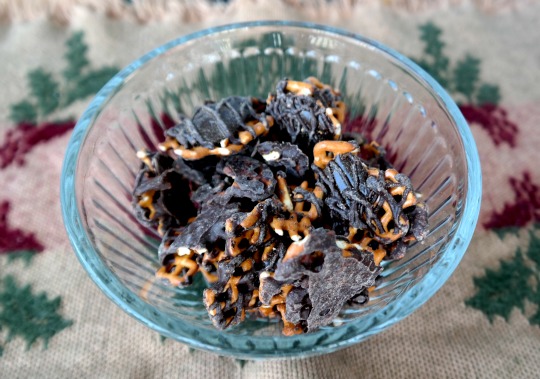 Snappers snacks combine tradition and legacy for caramel, specialty peanut butter, proprietary pretzels and signature chocolate blends to create delicious, classic treats that evoke nostalgic memories of home baking. They can be eaten straight from the package are use them as an ingredient in one of your favorite recipes. For example, add them into your brownie mix, homemade ice creams, yogurts and more!
We received one package of each of the new limited edition holiday flavors and oh my gosh…they didn't last long! Everyone who has walked into my house the past 2 weeks has sampled these and loved them! You can't eat just one and walk away, they are totally addictive!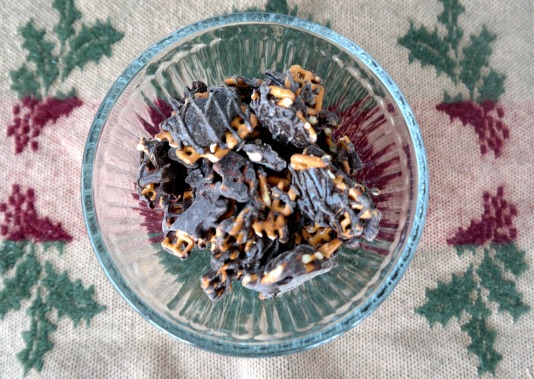 Out of the three flavors of Snappers that I tried my personal favorite was the Dark Chocolate Caramel Fudge. My husband and mother were all over the Dark Chocolate Peppermint while my daughter and grand daughter loved the Milk Chocolate Cinnamon Caramel. I have to admit, all three were delicious and I would purchase all three!
One of the things I really appreciate about Snappers is that their pretzels are small in size and thin. As someone who has TMJ & jaw problems, I can't chew thick, hard pretzels at all. These thin pretzels practically melt in your mouth and the chocolate…smooth as can be! Just the right amount of caramel to sweeten it up. YUMMY GOOD!
You can learn more about Snappers Snack by visiting their site online. You can connect with the company on Facebook too!

Disclaimer: Shelly H. has personally reviewed the product listed above. Shelly has not received any monetary compensation for her review. Shelly did receive a free product to try out so she could evaluate and use it for her review. Her thoughts & opinions in this review are unbiased & honest and your opinions may differ. Thanks!