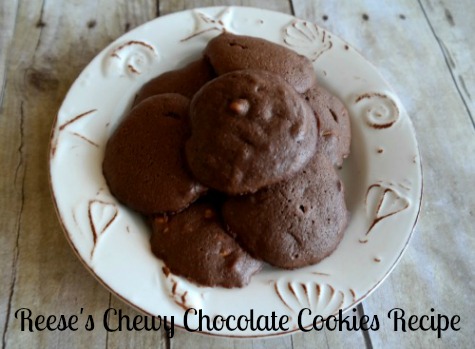 I love a good homemade chocolate cookie and when I make chocolate cookies, I like to follow the recipe on the back of the Reese's Peanut Butter Chips. If you like a very chewy & soft cookie…these are for you! This recipe will make about 4 dozen cookies, depending on the size that you make them. I like large ones…so it makes less for me. I've been making these for years for the kids and grandkids.
Note: The recipe calls for 2 teaspoons of vanilla extract. I don't use imitation vanilla and I use high-quality pure vanilla so I cut that down to 1 teaspoon when I make this recipe.
Reese's Chewy Chocolate Cookies Recipe
2 cups all purpose flour
3/4 cup Hershey's cocoa
1 tsp. baking soda
1/2 tsp. salt
1 1/4 cups butter or margarine, softened
2 cups granulated sugar
2 eggs
2 tsp. vanilla extract
1 2/3 cups Reese's Peanut Butter Chips
Preheat oven to 350 degrees F.
Stir together the flour, cocoa powder, baking soda and salt; set aside. In another bowl, beat together the butter and sugar with an electric mixer until fluffy. Add in the eggs and vanilla extract. Gradually beat in the flour mixture until everything is well combined. Hand stir in the peanut butter chips until combined.
Drop the batter by a big teaspoon onto an ungreased baking sheet. Bake in a preheated oven for 8-9 minutes or until done. Don't over-bake them! They will be soft in the center. Remove and let cool. Store in an airtight container.
* This post contains affiliate links. If you make a purchase, we may or may not receive a small commission which helps to support this site. Thank you!