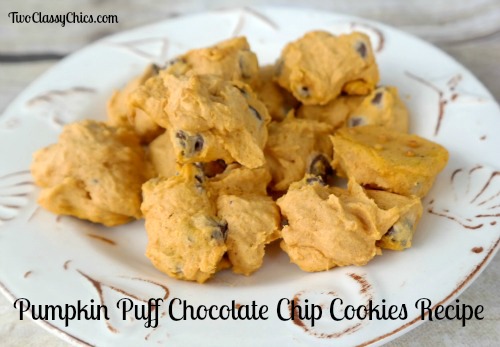 During the late fall and holiday seasons, I like to use pumpkin whenever I can. My daughter Shelly does home canning and we will often use her canned pumpkin which is really good or you can buy store bought canned puree. Either way, these cookies are super easy to make and are one of the family's favorites to enjoy. If you really like a lot of chocolate flavoring, I would suggest increasing the amount of semi-sweet chocolate chips that you add to the cookie batter.
If you enjoy Pumpkin Bread, check out my grand daughter Jenelle's recipe for that.
Pumpkin Puff Chocolate Chip Cookies Recipe
2 cups flour
1 tsp. baking powder
1 tsp. baking soda
1 tsp. cinnamon
1/2 tsp. salt
1 cup granulated sugar
1 cup vegetable shortening
1 cup pumpkin puree
1 medium egg, beaten
1 tsp. vanilla
1/2 cup semi-sweet chocolate chips
In a medium mixing bowl sift together the flour, baking powder, baking soda, cinnamon and salt. Set aside. In a large mixing bowl cream together the sugar and shortening until creamy. Beat in the pumpkin, egg and vanilla until all ingredients are blended. Gradually beat the flour mixture into the pumpkin mixture until everything is combined. Stir in by hand the chocolate chips until they are blended throughout the batter.
Preheat oven to 350 degrees F. Lightly spray a baking sheet with non-stick baking spray. Spoon batter onto the sheet by the tablespoonful, leaving about 2″ between each one. They don't expand much at all. Place baking sheet into the oven and bake for 8 to 10 minutes or until done. Remove and let cool.
* This post contains affiliate links. If you make a purchase, we may or may not receive a small commission which helps to support this site. Thank you!