When you think about how many different products you have piling up in your bathroom cabinet or on the counter, there are probably 10 to even 20 different types of First Aid items. There's a new solution that will save you space and will provide high quality, herbal-packed healing ingredients that will be a welcome change for your skin.
Today I'd like to introduce you to Green Goo® by Sierra Sage, which offers a wide variety of natural products that work better than the traditional products you might use for everyday ailments. Sierra Sage is a family owned business that is based out of Lyons, Colorado that is committed to making conscious and pure products safe for people and the environment, while making a positive footprint on the planet. Sierra Sage formulas are created using timeless herbal wisdom with Organic ingredients to produce Food for Your Skin™. These products are free of petroleum, chemicals and other harmful ingredients. Only the the purest, most sustainable herbs and essential oils are selected to create medicinal everyday products.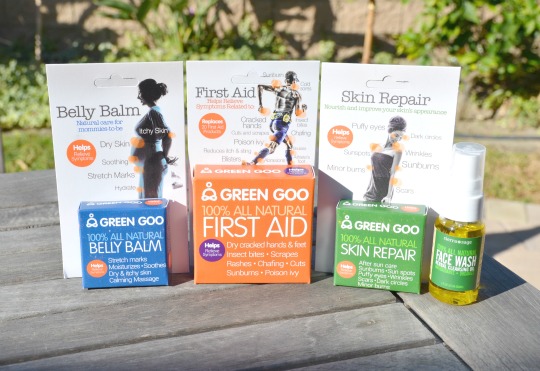 I received four of Green Goo products for review. Here's an overview on each of these little wonders:
Green Goo 100% All Natural First Aid – This Green Goo product is an all-purpose healing salve that can easily replace over 20 first aid products. It has a powerful blend of organic herbs that help fight infection while reducing pain and inflammation. This is a miracle worker for all of your basic first-aid needs and is safe for children and even pets. It can help with everything from soothing and moisturizing dry hands and feet, to healing chapped lips and cold sores. It can also help relieve the symptoms associated with:
• Insect Bites
• Cuts and Scrapes
• Poison Ivy
• Sunburns
• Blisters
• Ingrown toenails
• Fungal infections
• Chafing
Green Goo 100% All Natural Skin Repair – This product is a daily hydrating salve for the face and body. With its primary ingredients being organic Aloe Vera and Vitamin E oil, it helps to replenish and revive your skin. It feels light and smooth on the skin and doesn't feel greasy like other products might. In addition, the All Natural Skin Repair can naturally enhance the cellular synthesis of the skin to help provide a fresher and more youthful look. This product's essential oils combined with Aloe Vera deeply nourish and hydrate the skin. Here are some of the suggested uses:
• Scars (new and old)
• Wrinkles and puffy eyes
• Night eye cream
• Aging and sunspots
• Minor burns and sunburns
• Precancerous sun spots
• Sun -damaged skin
100% All Natural Face Wash –Sierra Sage's Oil Cleansing Face Wash is organic, gentle and doesn't contain any of the harsh, drying chemicals found in most soap. The unique combination of antioxidant rich oils and healing herbs nurtures the skin leaving it clean and fresh without clogging pores. This product can be used daily for cleansing and moisturizing. A little bit goes a long way, so you only need to use a tiny bit and massage it into your skin for about 30 seconds. Ingredients include:
• Olive Oil
• Vitamin E Oil
• Sunflower Oil
• Jojoba Oil,
• Calendula Flowers
• Lavender Essential Oil
• Rosemary Extract
Green Goo 100% All Natural Belly Balm– This Lanolin-free balm is ideal for the mommy to be with its healing blend of Organic Cocoa and Shea Butter, both nutrient and anti-oxidant rich. This combination naturally moisturizes and hydrates the expanding body to help reduce stretch marks and itchy skin. It helps to relieve the following symptoms:
• Stretch marks (both red and white)
• Itchy skin
• Dry skin
Overall, these are high-quality products made with ingredients that are found in nature. You won't find fillers or chemicals in anything this company produces. Each product is affordable, compact and will truly help you downsize the medicine cabinet to only include the essentials.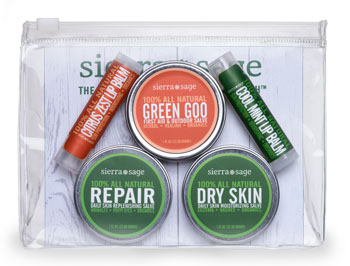 Giveaway: One lucky winner will win a travel pack of goodies (like the one shown above) of Green Goo products. yay!
Giveaway Details: This giveaway is open to US Residents age 18 or over. You must complete the Mandatory Entry to be eligible. This giveaway will close on January 7th, 2016 at 11:59pm EST Time.

Disclaimer: Kristine has personally reviewed the product listed above. She has not received any monetary compensation for her review but did receive a free product to try out so she could evaluate and use it for her review. Her thoughts & opinions in this review are unbiased & honest and your opinions may differ. Please read our official rules for giveaways before entering. Two Classy Chics is not responsible for shipment of this product