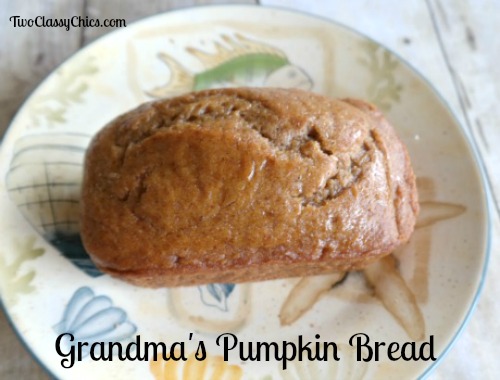 My great-grandmother passed away 16 years ago. After she passed, I kept a large box full of her handwritten recipes as a keepsake along with a pile of her favorite vintage cookbooks.
A few days ago I was sorting through some of her handwritten recipes and I came across this one called Grandma's Pumpkin Bread and just had to make it in her honor.
One of the things I loved about this bread is that it's very moist. It's not dry and super crumbly like most other pumpkin breads. It's actually moist, fluffy and flavorful. I poured my batter into mini loaf pans instead of using a full-size pan. I gave my mom a mini loaf (Shelly) and she gives it a big thumb's up too!
If Pumpkin Cookies with Chocolate Chips are more your thing, check out my Grandma Carol's recipe here on the ClassyChics for that.
Grandma's Pumpkin Bread Recipe
2 large eggs
1 cup canned pumpkin puree
1 1/4 cups granulated sugar
1/2 tsp. ground cloves
3/4 tsp. ground cinnamon
1/4 tsp. ground pumpkin pie spice
1/2 tsp. salt
1/3 cup vegetable oil
1 3/4 cups all-purpose flour
1 1/2 tsp. baking powder
1/2 tsp. baking soda
Preheat oven to 350 degrees F.
In a large mixing bowl beat the large eggs. Beat in the pumpkin puree, granulated sugar, ground cloves, ground cinnamon, ground pumpkin pie spice and the salt. Mix well and then mix-in the vegetable oil.
In a separate bowl sift together the all-purpose flour, baking powder and baking soda. Gradually mix the flour mixture into the first bowl using an electric mixer until everything is combined.
Lightly spray a large loaf pan or several mini loaf pans with non-stick cooking spray. Pour batter into the loaf pan(s) filling them 3/4 of the way full. Use a spatula to even out the batter for even baking.
Place into the oven and bake for 30-45 minutes for full loaves or for 14-18 minutes for mini loaves. Remove from oven and let cool completely before wrapping them up as gifts or serving them.
* This post contains affiliate links. If you make a purchase, we may or may not receive a small commission which helps to support this site. Thank you!