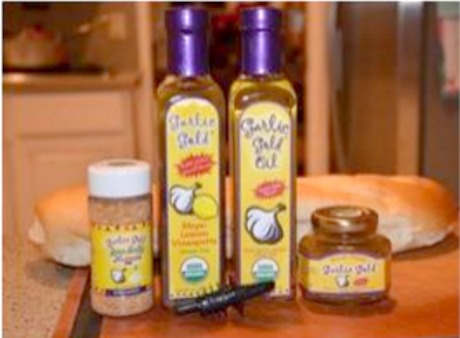 I don't know about you, but around this time of year my kitchen (and my kitchen's cook—aka: husband) is definitely working overtime. Between holiday gatherings, parties and the standard weeknight dinners, there are a lot of delicious dishes being produced! I was recently introduced to some tasty products from Garlic Gold® that I'm excited to tell you about today.
Garlic Gold offers hand-crafted, artisanal, gourmet garlic products that are manufactured in a certified organic kitchen in Ventura, Calif. All of the company's unique products, including certified organic garlic oils, vinegar and seasonings are sourced from around the globe.

I was lucky enough to receive what would surely make an awesome gift for the foodie in your life—the Garlic Gold gift box. This box contains four outstanding garlic products including: one bottle of Garlic Gold Meyer Lemon Vinaigrette (250ml), one bottle of Garlic Gold Oil (250ml),one bottle of Garlic Gold Sea Salt Nuggets (2.3oz), and one jar of Garlic Gold (crunchy garlic nuggets in extra virgin olive oil-3.75oz). Here's some additional information on each of these enjoyable products that is part of the gift box:
Garlic Gold Meyer Lemon Vinaigrette – this is a great choice for those who have trouble tolerating vinegar as it is vinegar-free. This new and improved version contains bolder Italian, and zestier lemon flavors. The Meyer Lemons are sourced locally from an organic farm in Ojai, Calif. This product also only uses extra-virgin olive oil (instead of an oil blend) and it is perfect on salad and makes a great marinade for fish, chicken, and vegetables.
Garlic Gold Oil – this oil has been widely recognized as the finest tasting garlic-infused organic extra-virgin olive oil on the market. It is subtle and ideal for sautéing or stir-frying your favorite dishes, or simply use it as a bread dip, which is one way we used it. Absolutely wonderful! This is a healthy, delicious substitute for butter or to use in place of regular cooking oils. It's also fabulous in marinades and sauces.
Garlic Gold Sea Salt Nuggets – this is by far my favorite of the bunch. This tasty blend includes hand crafted, organic and delicious Garlic Gold Nuggets blended with the refreshing, incredible flavor of gourmet sea salt. This is a premium and very unique line of garlic salt. We've been using it on garlic bread, steamed veggies and my favorite—popcorn! It can definitely dress up a boring dish in a snap.
Garlic Gold (crunchy garlic nuggets in extra virgin olive oil) — Drizzle on bread and toast/grill for an easy and delicious garlic bread (which we've done several times). This versatile condiment can be used on any of your favorite dishes including pasta, steamed vegetables, steaks and or fish. It is truly delicious!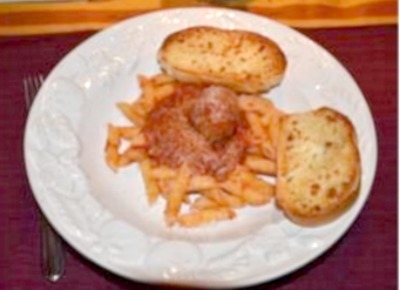 All four of these products can be used on an endless number of foods to bring out that wonderful garlic flavor. From salads to pasta to chicken and veggies, these products will help make any meal more memorable. We actually whipped up some delicious pasta marinara and garlic bread last night for my son's birthday.We used the Garlic Gold Oil in the pasta sauce in place of the usual olive oil we use and Garlic Gold and the Garlic Gold Sea Salt nuggets on the garlic bread, which made an outstanding and mouth-watering mixture of garlicky goodness on the bread. We just mixed the Garlic Gold Oil with a little butter, Herbes de Provence, parsley and then topped with the Garlic Gold Sea Salt Nuggets, parmesan and a tiny bit of mozzarella cheese. Absolutely delish!
Speaking of recipes, the company's website has a huge amount of Garlic Gold recipes that cooks of all levels can try out. We made the Garlic Roasted Brussels Sprouts over the Thanksgiving holiday and they were a big hit. Browse through the full list of recipes, and you'll find dozens of delicious ways to use these Garlic Gold products.
The Garlic Gold Gift Box would make a great gift for family members, teachers, coaches, and for those special co-workers at the office.
* This post contains affiliate links. If you make a purchase, we may or may not receive a small commission which helps to support this site. Thank you!

Disclaimer: Kristine has personally reviewed the product listed above. She has not received any monetary compensation for her review but did receive a free product to try out so she could evaluate and use it for her review. Her thoughts & opinions in this review are unbiased & honest and your opinions may differ. Please read our official rules for giveaways before entering. Two Classy Chics is not responsible for shipment of this product