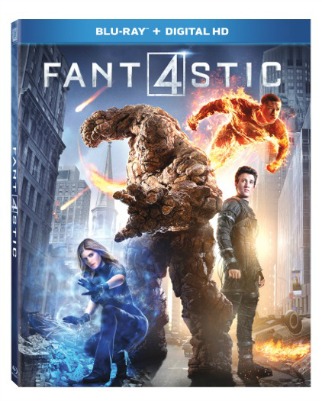 How many of you are big fans of the Fantastic 4 movie genre? Or, what about being big fans of any superhero flicks? I know that millions of fans have been waiting for the DVD release of Fantastic Four and it's almost here!
Fantastic Four Arrives on Digital HD November 20th and Blu-ray and DVD on December 15th, 2015. Just in-time for last minute holiday gift giving!!!
The FANTASTIC FOUR make a triumphant return with MARVEL's next generation of heroes — four young outsiders who teleport to an alternate universe, their physical forms altered in shocking ways. Their lives changed forever, Reed Richards ("MR. FANTASTIC"), Sue Storm ("INVISIBLE WOMAN"), Johnny Storm ("THE HUMAN TORCH") and Ben Grimm ("THE THING") must harness their incredible new powers and work together to save Earth from a former friend turned enemy, the infamous DR. DOOM.
To go along with the upcoming DVD release…we got three fun printables for you! These are perfect to print out and have on hand when you & the kids watch the film or just print them out and use for those days when the kids need something to do!
* Printable Fantastic Four Word Search
* Printable Fantastic Four Holiday Cards
* Printable Fantastic Four Word Scramble
In honor of the upcoming release of the film…we are hosting a giveaway here on the blog!
Giveaway: One lucky winner is going to win the Fantastic Four DVD.
Giveaway Details: This giveaway is open to residents of the US ONLY age 18 and over. Please read our Terms of Service & Disclaimer Policy before entering. This giveaway will close on January 4th, 2016 at 11:59 pm EST time. No purchase necessary to enter or win.

Disclaimer: The Classy Chics are not responsible for delivery of any giveaway items won from this blog. We are not responsible for injury or mis-use of any products won from the The Classy Chics Blog. Please read our Terms of Service & Disclaimer Policy before entering our giveaways. Thanks!