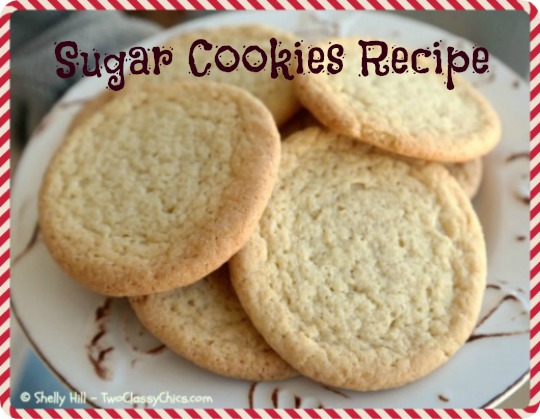 The holidays are coming and I've already been baking up a storm! Every holiday season I make & bake at least a dozen different types of cookies. Some of the ones that I make are your classics and others are more unique. Over the next 2-3 weeks, I'll be sharing some of my favorite Christmas cookie recipes with all of you!
I love homemade sugar cookies and I love using a "drop" recipe when I make them. I just don't have the time like I used to…to make cut-outs.
Drop Sugar Cookies Recipe
1 cup butter or margarine (softened)
1 1/2 cups granulated sugar
2 medium eggs
1 tsp. vanilla
3 1/2 cups all-purpose flour
1 tsp. baking soda
1 tsp. baking powder
1 tsp. salt
1 cup buttermilk
Let the butter or margarine soften. I like to put mine in the microwave for about 15 seconds. In a mixing bowl beat together the softened butter with the granulated sugar until creamed. Add in the eggs and beat.
In another large mixing bowl sift together the all-purpose flour, baking powder, baking soda and the salt.  Measure out the buttermilk and set aside.
Alternating with the buttermilk and flour mixture…mix all three together with an electric mixer. I do mine in thirds until everything is blended together.
Lightly grease your baking sheet (I use non-stick cooking spray). Drop by the tablespoon onto the baking sheet.
Bake in a 350 degree oven for 8 to 12 minutes or until done. Remove and let cool on a wire rack and then store the cooled cookies in an airtight container.
* This post contains affiliate links. If you make a purchase, we may or may not receive a small commission which helps to support this site. Thank you!