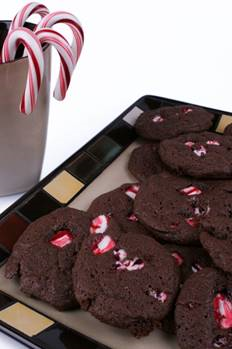 It's finally the holiday cookie making season! Making and baking a wide variety of cookies is one of my favorite things to do during the holiday season! Every year…I bake at least a dozen different types of cookies!
If you are a fan of a peppermint mocha coffee, than COOKINA's recipe for Gooey Chewy Double Chococlate Chip Candy Cane Cookies is made for you! Combining the rich flavor of not only chocolate cookies, but added chocolate chips and sweet mint flavor, make these cookies like Christmas for your mouth.
Gooey Chewy Double Chocolate Chip Candy Cane Cookies Recipe
1 cup Salted butter, softened
1 cup White Sugar
1 cup Brown sugar
2 Eggs, room temperature
2 tsp Vanilla
3 cups All-purpose flour
1 tsp Baking soda
2 tsp Hot water
1 cup Milk chocolate chips
1 cup Semi-sweet chocolate chips
1 cup Candy cane/or peppermint candy pieces
Preheat oven to 350 F (175ºC)
Cream the butter, white sugar and brown sugar on medium/high speed until light and fluffy. Add eggs, one at a time, incorporating after each addition. Dissolve the baking soda in the hot water, then mix into the batter with the vanilla and salt. Stir in flour, chocolate chips and candy pieces. Drop large spoonfuls or scoops onto a baking pan lined with a COOKINA® Cuisine Reusable Baking Sheet, spacing cookies 2" apart.
Bake on the middle rack, in a preheated oven for 10-13 minutes or until edges are golden. Let cookies cool on wire rack and enjoy!
Disclosure: The recipe and photo has been used with permission and is courtesy of COOKINA. Please visit the company's site to learn more about them and their products.
* This post contains affiliate links. If you make a purchase, we may or may not receive a small commission which helps to support this site. Thank you!